I liked my large sized Midori Traveller Notebook knock off (TNKO) so much I decided to make a pocket sized version to hold a few jotters. Once I made it I realized I could wedge my Canson Blue Book into it and make my art and not taking need marry into one refillable slab of leather. And it works, marvelously, perfectly and addictively. I've sketched, journaled and made notes in nothing else* since I made this thing. Oh baby. I took the leather from the first incarnation of the 6×9 inch TNKO and recolored it with artist grade artist paints in a couple of shades of brown. Then impregnated, that sounds dirty, it's not but it is kinda messy, the leather with cold wax and then straight up bee's wax and heat. This leather is waterproof and so soft and smooth it's awesome. I'm pretty amazed at how well it came out. I didn't know what to expect when I hit it with some wax and light heat, I knew it would take it and take it well but I was shocked to see how well.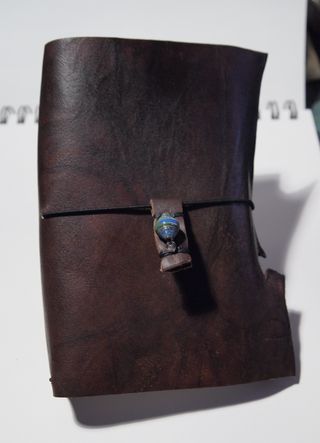 I also stitched a pen loop and a pocket into the back, a pocket may end up in the front as well. I've started to stuff random things into the pocket- business cards, receipts, stickers and scraps of paper that I acquire throughout my days. Under the elastic my iPoo is comfortable along with a pen. It's really allowed me to pare down my on the go journaling needs to a journal, a jotter and a pen or 2. I've got more to write about concerning pared down journaling and how it's really opened my mind to possibilities.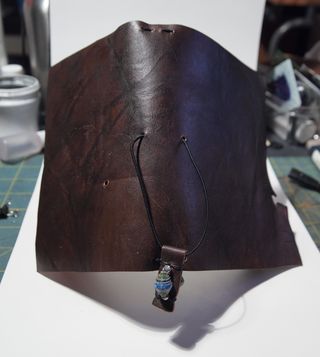 *Except my Exacompta 5.5×8.254 inch journal, but that's a whole other addiction/post.