It's been a crazy few weeks. I had to help count inventory a while back for the DayJob and it threw me for a loop. I've been trying to get back on track ever since I was sick and having my schedule screwed up really just put me back to spinning my wheels in the rut again. This weekend was a good one for getting me back into the flow of things. Jane and I met and had a good cuppa at one of my favorite places, Atomic and then we took a walk in the park here in town. Where I sat and sketched and we talked about PioP, which is shaping up to be really really cool. I can't wait for the reveal of what it is. It's going to be awesome.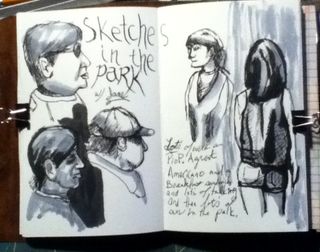 This is the first sketching I've done in awhile. I could make a lot of excuses but I won't. Honestly life has been flying at a million miles an hour and I find that instead of sketching or arting I make a few notes in my journal or veg out watching Hulu* at the end of the day. Fortunately though those notes are all forward progress, important tidbits of information. I'm looking forward to sharing those with you once everything is in place.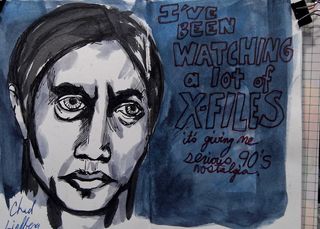 I picked up a copy of Kerri Smith's new book, "Finish This Book." I'll have a review on it here soon.I've also picked up a bunch of new fountain pens, some inks, a brush and a few other odds and ends. Hopefully this week I'll get to writing up a bunch of reviews. That means I've got Thursdays covered. Hopefully I'll be back on track with my blogging as well as my journaling. I've also been attempting to practice some "ultra light weight" journaling/sketching. It's centered around my Midori Traveller knock off. I"ll get a post up about that too. Lots of good stuff is in the works.
*We're watching the X Files all over again, just when I think it's jumped the shark it redeems itself. We're about halfway through season 6. 3 more to go, then I can get back to real life. It's also giving me some serious 90's nostalgia. Ahh flannels and levi's 501s 🙂