I realize that I've been writing about the BanditApple Carnet notebooks for a year or more and I haven't reviewed them. It's time to fix that.
The BanditApple Carnet notebooks are available in 3 sizes: Handy (MTN size 8.5×4.33inches), PeeWee (3.5×5.5 inches), pocket book (4x6inches). They also offer a planner in the peewee size. The covers are available in red, green, tan and black. Inside you can get plain, lined, or gridded paper. This review is on the peewee plain, but they use the same paper inside all their notebooks. Some of the books have rounded corners and some do not. My most recent plain notebook with a tan cover had square corners. My previous black PeeWee had rounded corners.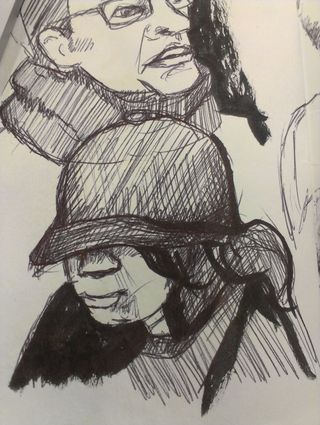 They feature a machine stitched binding using heavy weight cotton thread. I've been using the PeeWee size for a couple of years now and can say that the binding doesn't look worn on any of my notebooks. It doesn't matter if I've carried them in a cover or naked in my back pocket. The notebooks are very sturdy and stand up to abuse. The covers have a lovely texture and the color is sold  throughout. The cover is plain, featuring no adornments, not even a company logo, rather that info is on the clear plastic sleeve that makes up the notebook's package.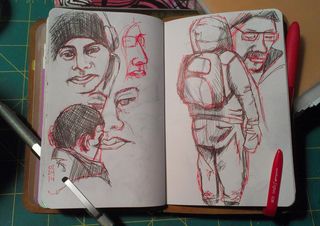 Inside the notebook are 64 pages of 80gsm "heritage" paper that is off white in color. I don't know what heritage means other than "awesome." The paper handles everything I throw at it from fountain pens to brush pens to light watercolor washes, and has the additional benefit of being lovely with pencil. This paper is amazing sketching paper for the price. I rarely get any bleed through. I've got one Japanese calligraphy brush pen that soaks through, but it soaks through every paper I own. It is also rare that I'm able to see through to what I've drawn or written on the other side.  The paper isn't super smooth but gives just enough feedback with a pen to be nice. With a brush pen the pages don't wrinkle, but with light watercolor washes they wrinkle a small amount. Not enough that i'm bothered by it, but I mention it because I know some people are bothered by wrinkles.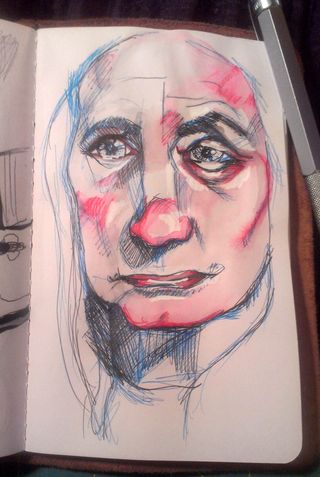 The big drawback to these notebooks is that they are only carried by a few online vendors and I'm not able to find them in person at all. Goulet Pens carries them as does Zeller writing company. But, it looks like Zeller has them on clearance. You can order a sample directly from the company in Seoul here. Turnaround time is roughly 3 to 6 weeks, I had mine in 4. For $3 you can't go wrong.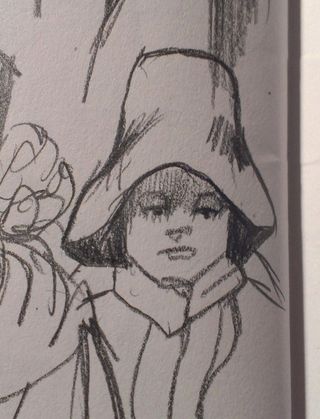 The price for the 64 page PeeWee notebook is $3.50USD, roughly the same price as a Field Notes or Moleskine Cahier but with significantly better paper and more pages.
If you are outside of the US you can find a vendor on this list.
I was not compensated for this review in any manner. I purchased several PeeWee notebooks on my own. I did take part in their giveaway where I was able to get one of their notebooks for $3.
I have had contact via email with the owner of BanditApple, Arnie Kim, to figure out if I can buy directly from him and to see if that price is lower than the price via Goulet. The simple answer is that yes I can buy directly from BanditApple and the price including shipping on 10 PeeWee sized notebooks (the size I use) is about $10USD cheaper. However, I might get hit on customs and it will take 3 to 6 weeks to get here. If I use expedited shipping there is no price difference. I guess the difference in price is worth it if one can wait to get their product.