Another recent purchase from Pencils.com was a 12-pack of the infamously smooth and dark Musgrave Test Scoring 100 pencil.  This made in the USA pencil has been suggested to me as a "dirt cheap" alternative to Palomino Blackwings.  They do not disappoint.

Where some pencils arrive in a nice box or blister pack the Musgrave Test Scoring 100 (TS100) arrives in a plastic bag. One side of the bag is clear the other white. Each end of the package is heat sealed. It is one of the most no frills packages I've received. It's not attractive and it doesn't protect the pencils. That's okay because the places where the TS100 are sold typically put them in cardboard boxes with plenty of padding. Mine arrived in perfect shape.
I find these to be a very good looking pencil. The silver paint is evenly and smoothly applied. the ferrule is bright silver aluminum and fixed securely to the pencil. It holds a pretty crappy pink eraser. While the eraser is not the best it does the job of cleaning graphite from a page. This pencil would look significantly better with a white eraser. The imprint is on one side and is black. The imprint is good enough but isn't perfectly crisp.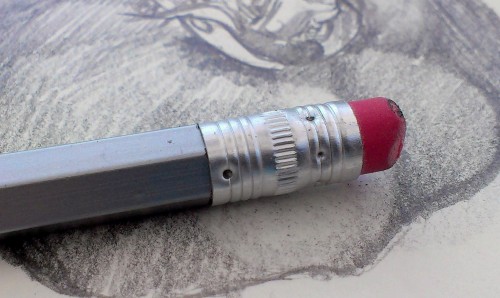 The core is well centered and the pencil sharpens easily in any sharpener I tried.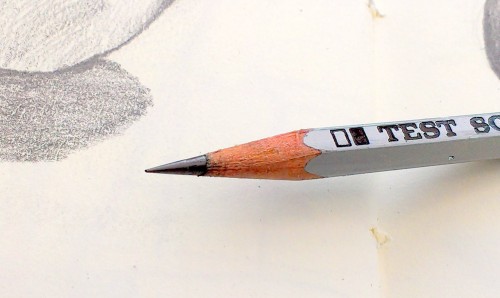 The pencil performs wonderfully. The graphite core is thick. It's dark with little pressure while writing and sketching. It's possible to get a great deal of dark and light shades. Subsequent layers of graphite create even darker areas. This is a fantastic pencil for sketching. It's ability to lay down deep darks with so little pressure makes it a great option for a single pencil to carry. It is harder to get light areas. I'd rate this a 3 or 4B when compared to other art pencils. It is similar in darkness to the Palomino Blackwing.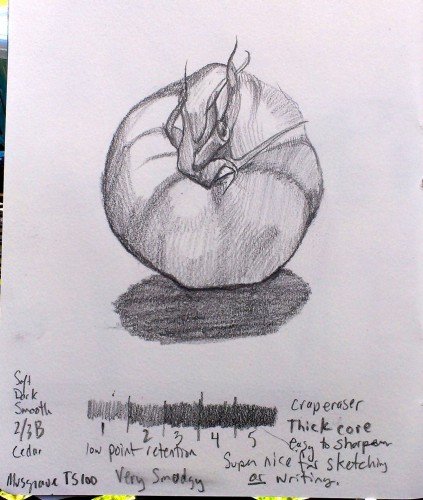 As for writing, this pencil is effortless. It glides across all the types of paper I tested and leaves a deep dark line. It is one of the more effortless pencils I've written with. Because this is a super smooth soft pencil, point retention is not the best. Again, I'd compare the point retention and writing to the Palomino Blackwing.
In terms of looking for a single pencil to carry for sketching or writing, this pencil is a fantastic value. Coming in at 27 cents per pencil these are a great value for any use. Also, how often are neat silver colored pencils found?
The only negative things I can say about this pencil is that the eraser is terrible and that the corners of thesides are very sharp. But these are not all that noticeable. The eraser issue is solved by using a stick or block eraser. The edge issue seems to be eased by rotating the pencil.