Another recent purchase via Pencils.com the Stabilo GreenGraph is yet another good looking pencil. We can talk about my love of olive drab green and how it might skew my review of this pencil's good looks. Or not.
This pencil features a flat olive green paint and cream colored pin stripes and imprint. The pairing of colors is very nice, and as I've stated previously easy on the eyes. The reverse side has a bar code  printed in white. It's not obtrusive. The ferrule is brass colored and tightly fixed to the body of the pencil. It holds a super firm white eraser. The flat paint of this pencil feels strange at first but through use it isn't slippery even when moist. (I tested this out by picking up my iced coffee, getting my hand wet with condensation then continuing my writing.)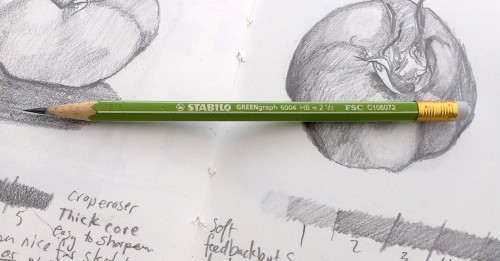 The wood is soft and fragrant but I don't think it's cedar. The pencil is FSC certified. The average sized core is well centered. It sharpens with ease in any of my sharpeners. It holds a point nicely.  In terms of darkness Iid rate this more as a B or 2B grade than HB.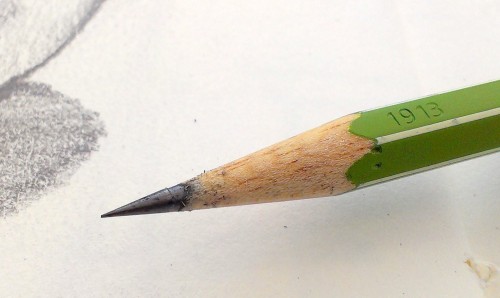 In use this pencil is very dark, smooth with feedback from the graphite. Some pencils, like the Staedtler Rally and this are smooth but have what I call feedback in the graphite. this means that rather than feeling like skating across paper like a Blackwing it's more like driving a dirt bike through sand.  The feeling isn't drag per se but more subtle. With a fountain pen this would be called feedback. This is a pencil that if you  like feedback from your pen and paper combination you'll get it. This is a pencil for people who don't like the feeling of the Blackwings.
I digress, the pencil is nicely dark both in writing and in sketching. It layers up to dark nicely it is hard enough that lighter shades are possible as well. It was really fantastic for sketching. I also really enjoyed it while writing. I used it for a brainstorming session for internship group art therapy ideas and really enjoyed the writing experience.  I also used it while reading a textbook for underlining the pulpy paperback. It worked well.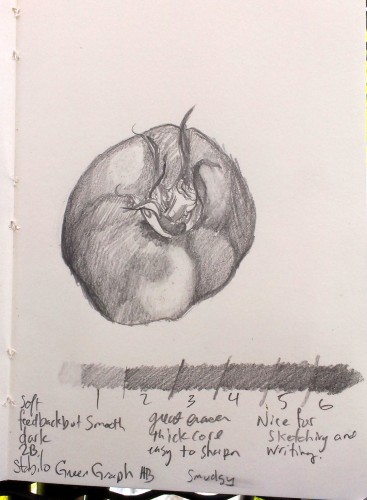 The super firm white eraser worked really well. It is one of the best erasers I've gotten on a pencil in a long time. I was able to use it while sketching and for cleaning the written word off composition book paper. Though I've used it repeatedly the ferrule and eraser are still fixed firmly to the pencil.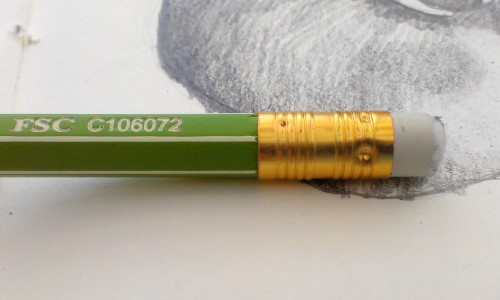 In terms of value, this pencil when purchased in a 3-pack via pencils.com is around $1 per pencil. When purchased in a 12-pack the value is better at 83 cents per pencil. This puts them into the affordable but not cheap category for me. I like them enough that I wish I'd bought he 12-pack rather than the 2-pack. Pencils.com is the only place to get the at a reasonable price.  I cannot find them on ebay and the price on Amazon was about $30 for 12!!!