I'm not going to go into the specific details about this pen, this has been covered by Goulet here and the video embedded below.
Compared to other pens in the same price range, such as the Lamy Safari I find this to be on the clunky side. The cap seems a little too large to me and its lines don't flow like the TWSBI 500 series. But it reminds me of classic budget pens like the Scheaffer school pens or the NoNonsense but with a revised clip. I always liked my NoNonsense pen, and this brings that classic aesthetic into a modern piston fill pen. That is, of course, the really important thing to remember about the Eco- it's a budget piston fill pen with a quality TWSBI piston mechanism.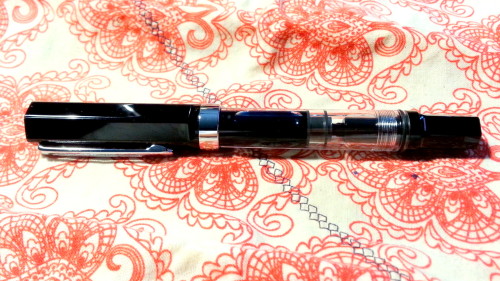 This is not to suggest that there aren't other budget piston mechanism pens out there, there are, but they are usually around $50 or more. There are pens from China and India that piston fill for a little less, but the pistons are junk and only hold about .75 to 1ml of ink. While the TWSBI mechanism slurps up big gulps of ink smoothly and holds roughly 2ml of ink. Which is quite a large amount if you use a fine or ef nib.
One of the areas they have saved some cash is on finishing. There are visible mold marks on my Eco. They are faint but there. They are also visible on my cap. Additionally, because I've been stress testing mine by using it as an EDC in my Fodderstack XL it is showing some fine use scratches. This is in part I'm carrying it WITH my Metal Shop CT Twist BP in the FXL pen holder. It is getting really beaten up through rubbing with the Twist but also on the nylon of the FXL. That being said, I've also sat on it, tossed it into my bag and put a water bottle on top of it and generally not been careful of it.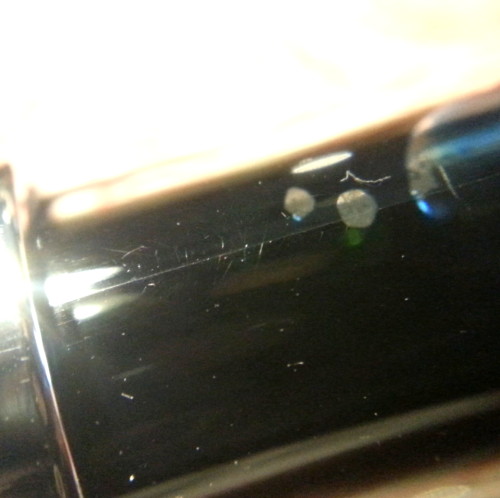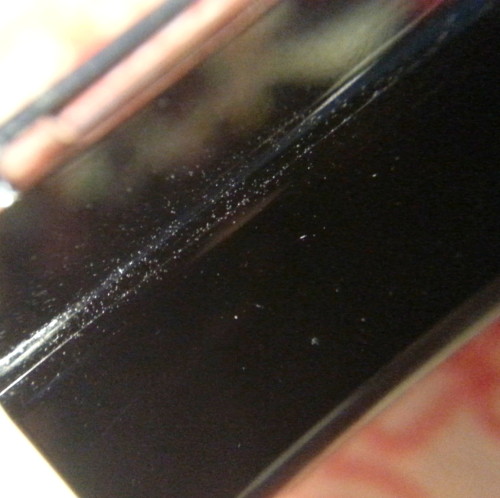 Of course, the toughness of this pen will be tested out by time. My stress test is just me in my particular use. I think that the FXL keeps the pen pretty secure, even if I do toss a Klean Kanteen on top of it on occasion. The cracking that occurred in the original 500 series seemed to be something that happened over time, rather than in response to trauma inflicted on the pen. So really we just have to wait a few months to see what will happen.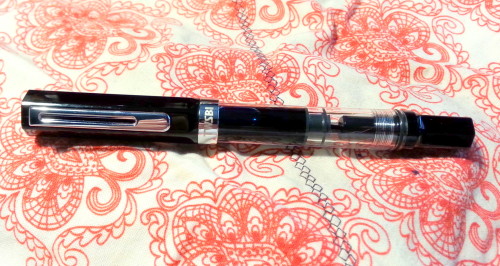 The MSRP for the pen is $28.99 or $29. I bought mine via Amazon via TWSBI* for $32 with shipping included. TWSBI adds in the shipping to their Amazon prices, so though they state "free shipping" you are in reality paying $3. Depending on where you purchase yours, the shipping may be more, or it may be less. Though I doubt it would be much less.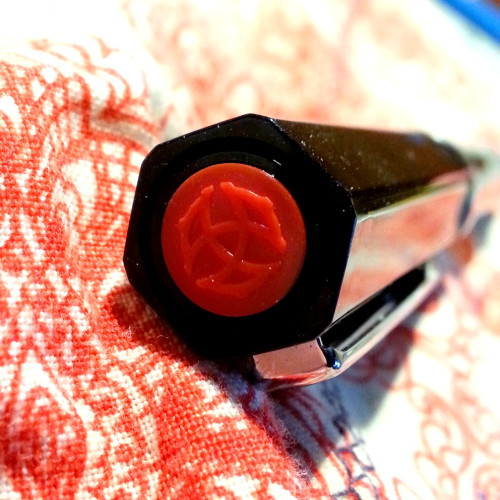 Anyway, my nib has been really nice, with a small amount of smoothing it's really nice. So far, I'm pretty happy with this pen. It isn't as nice as my Mini or 530 or 540, but so far it's been pretty tough and does the job. I certainly agree with Ed Jelley that the cap is ugly, classically so, but damn, eww. it's not a sexy pen, but if you want to introduce someone  (or yourself) to the world of fountain pens with something with a piston fill and a nice bottle of ink, this may be the pen.
I've been using this pen as my on the go pen- in my pocket all the time paired with a Field Notes and my Twist bullet pencil. It does reasonably well with my particular ink (a blend of turquoise, blue, and black to make a nice dark teal) in terms of flow, bleed through, and smoothness.
*Until I bought my Mini I had only ever gotten spectacular service from TWSBI, the service I got surrounding the Mini was not so great, so I used Amazon as a proxy so that customer service would be dealt with through Amazon should there be an issue.