These tiny erasers arrive bundled with Apsara pencils along with a sharpener. The NDE measures 35X12x18mm*. It is just small enough that it can disappear in my pocket but is just barely big enough that it's easily found, so long as my pocket isn't full of junk. It is white with a blue, green and white sleeve for protection. The sleeve does wear in through use, but it gets a nice patina that I pretty much love.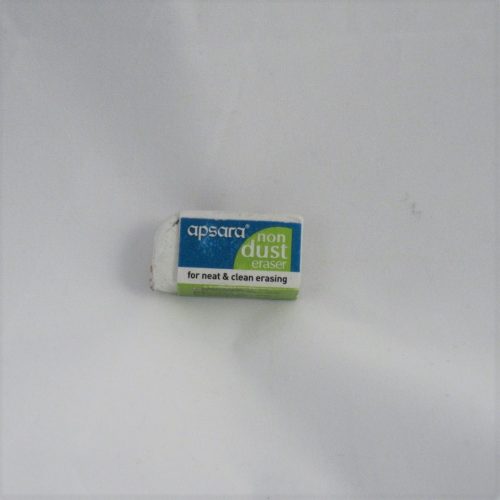 The NDE is, as the name implies, a sticky eraser in that it doesn't make crumbs and what it does make sticks to the eraser. It does exactly what the name implies- no dust and it sticks. As sticky erasers go this is quite firm, quite a bit more firm than the Sakura Foam or the Matumaru I reviewed previously. It does a decent job on smooth paper but on rough paper it does not clean as well, because the firmness prevents the eraser from getting deep into the fibers. That said, as far as sticky erasers go, if you are erasing on writing paper this will do the job well enough. No need to spring for a more expensive eraser to protect the paper in a Field Notes. This will more than do the job and keep eraser crumbs from messing your desk.
This is a great eraser for pocket carry. It works great as a fidget and also as an everyday eraser. Like most of the Apsara or Nataraj erasers you can find packs of 20 for sale on Amazon, but the prices fluctuate from $7 up to $50. The good thing is that if you order a pack of Apsara pencils, there is almost always an eraser and sharpener in the bundle, which makes them a good deal.
Most links are affiliate links and I get a small amount of pennies should you chose to make a purchase following my links. It's not a lot but it does help me to fund the hosting for the blog and buy new things to test and review. I bought the goods in this review with my own cash money and no one influenced my review.
*Yes, I'm using mm for my measurements. It's more accurate and we should be using the metric system anyway. Plug the measurements into google for inches.