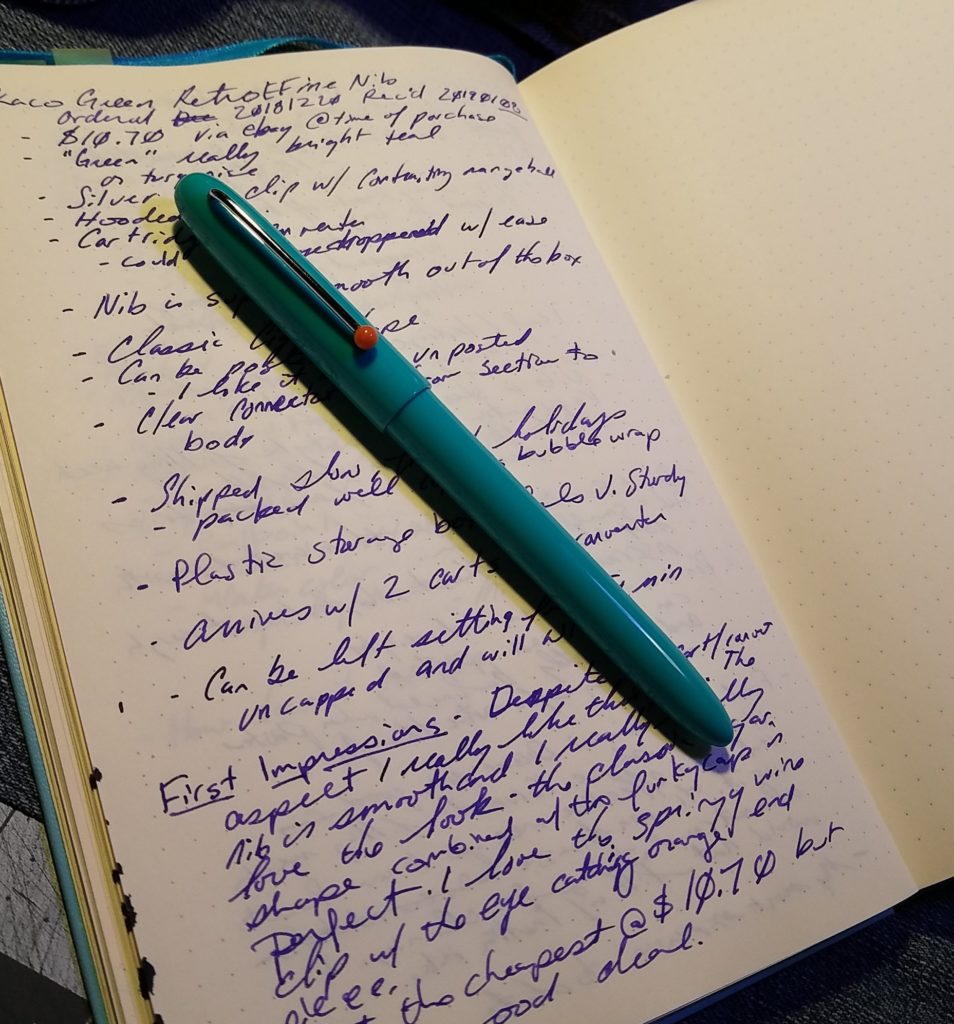 Kaco is a new player in the eBay cheap fountain pen market. Their pens tend to be slightly more expensive than the Jinhao and Wingsung that are more often found. The added price comes with a better presentation.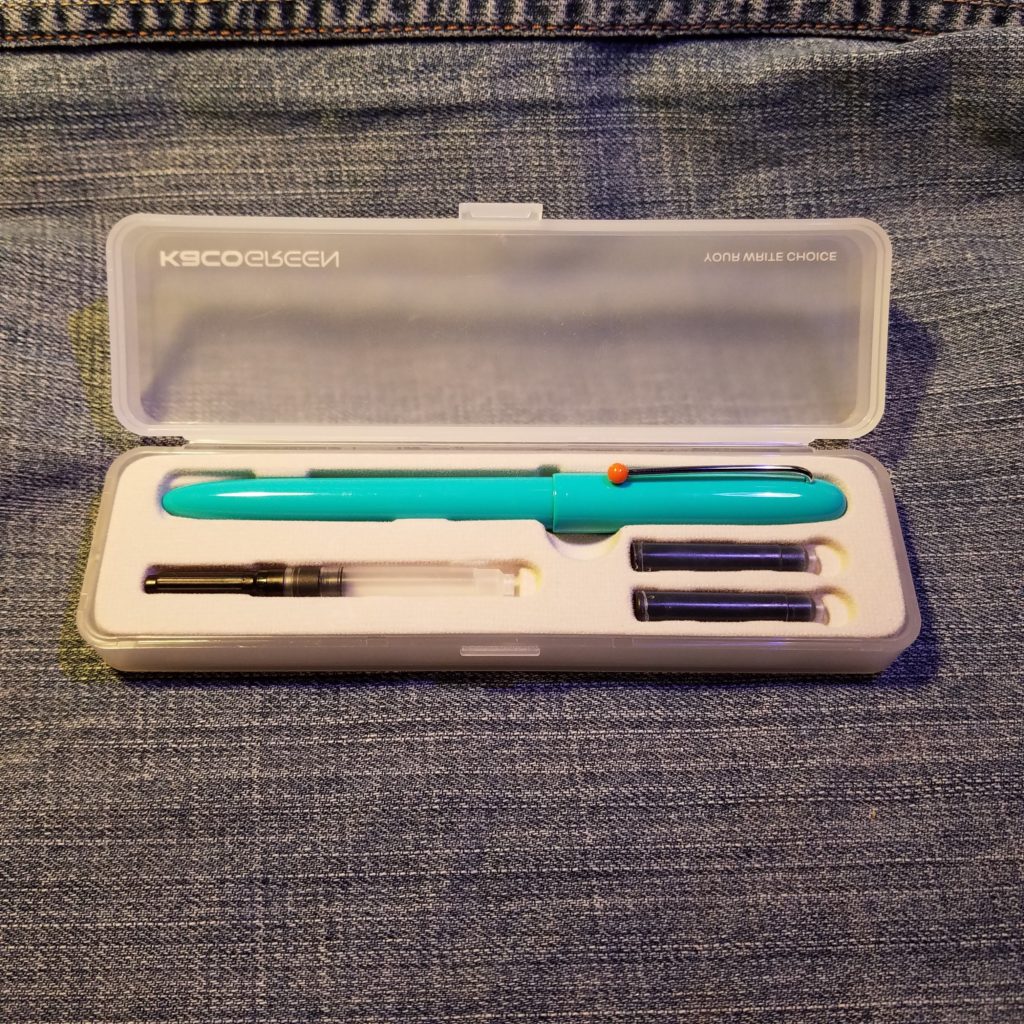 The black plastic envelope is full of foam. Shipping took longer than typical, about 21 days due to the holidays. The Retro arrives in a very sturdy translucent white case. The pen is in a stiff molded tray along with a converter and two international small cartridges.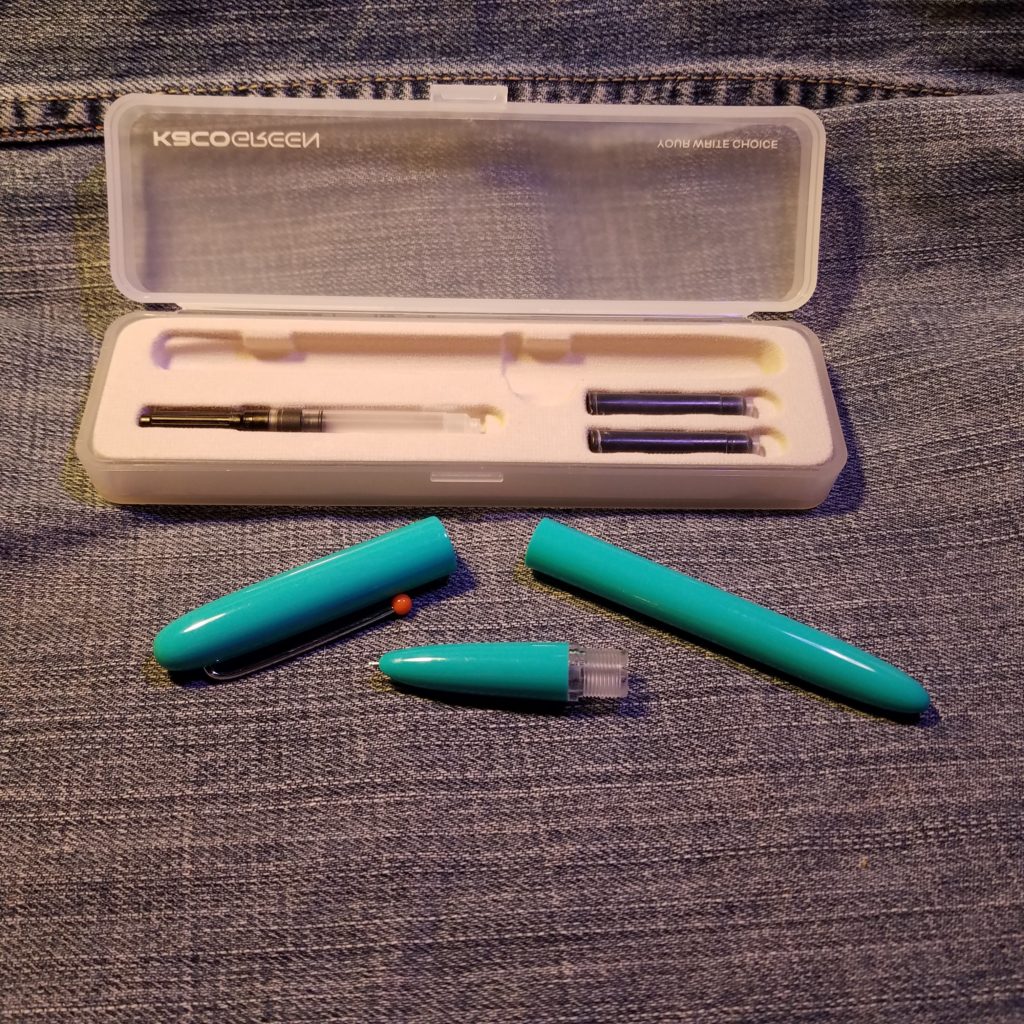 I ordered the "green" color which is a bright light teal. The color is cheerful and pops out of the sedate tray. The plastic is injection molded and though there are no visible mold lines, you can see the injection points on both the body and the cap. They are placed in locations that make sense and are somewhat hidden.

The bright cheerful color and plastic type screams school pen. The plastic doesn't feel cheap, it feels sturdy. The nib is a buttery smooth nail. No work needed either, it was that good out of the box. There isn't a hint of bounce or flex here. The hooded nib keeps things moist and writing. I was able to leave this pen uncapped and open in my bullet journal for at least 15 minutes. When I picked it up to make more notes, it wrote and was back to the usual flow in seconds.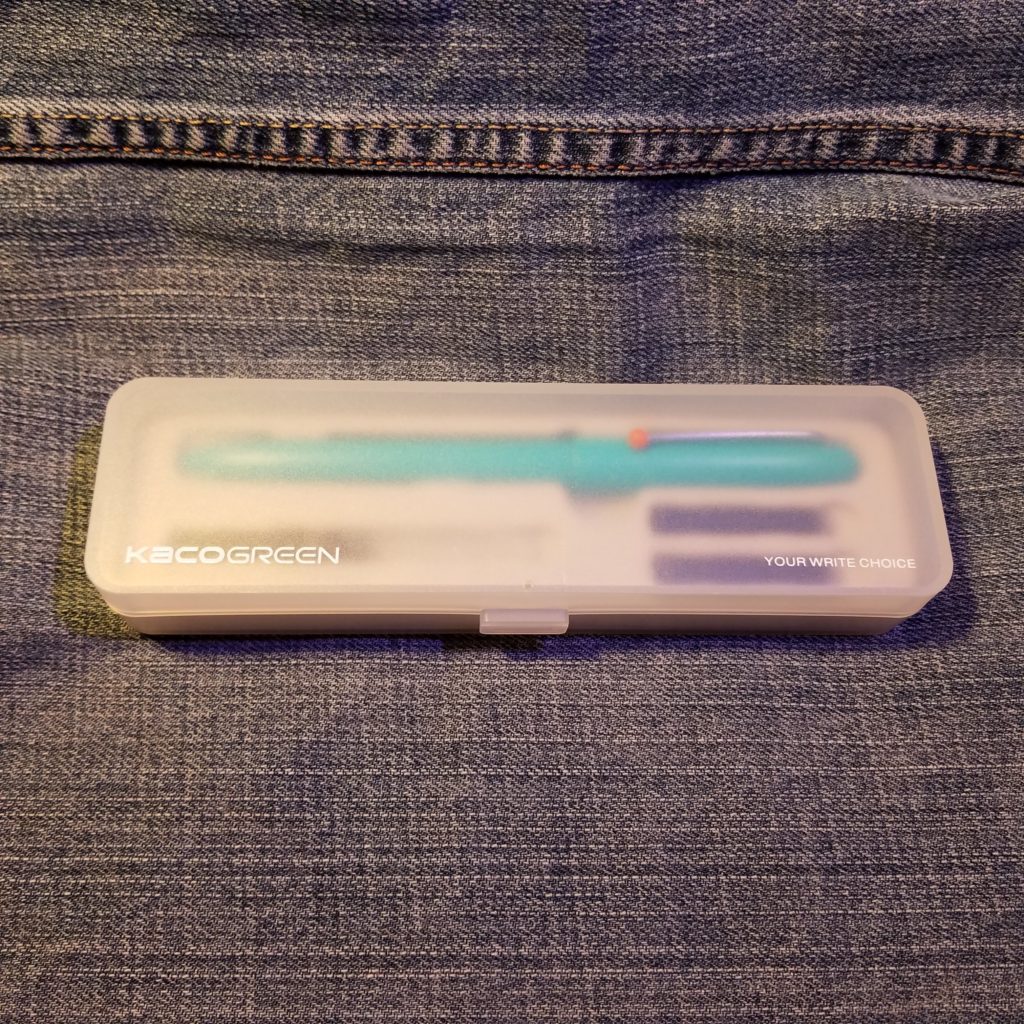 The pen fits my hand and feels good posted or unposted. The cap posts deeply and securely. The cap posts deeply enough that it still feels balanced when in use. The clip is simple- stiff springy wire with a small plastic ball at the open end. IT slides onto my shirt easily and stays put. The clip is surprisingly secure. Depending on your color the clip is an opposite color of the body. It's a smart little pop of color.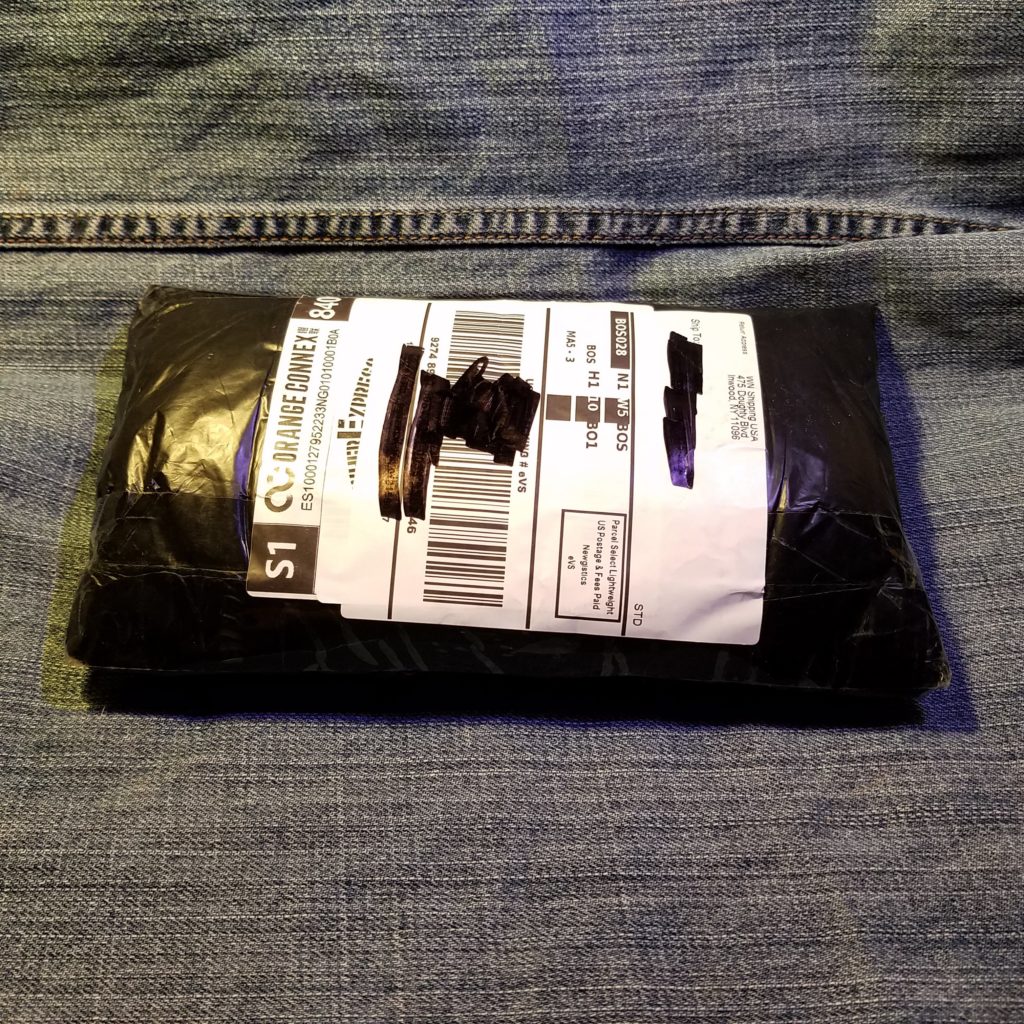 Overall I wasn't sure what I was getting into with Kaco. The retro is a lovely school style pen that I was able to write with effortlessly. It worked well with my personal writing style and methods of bullet journaling.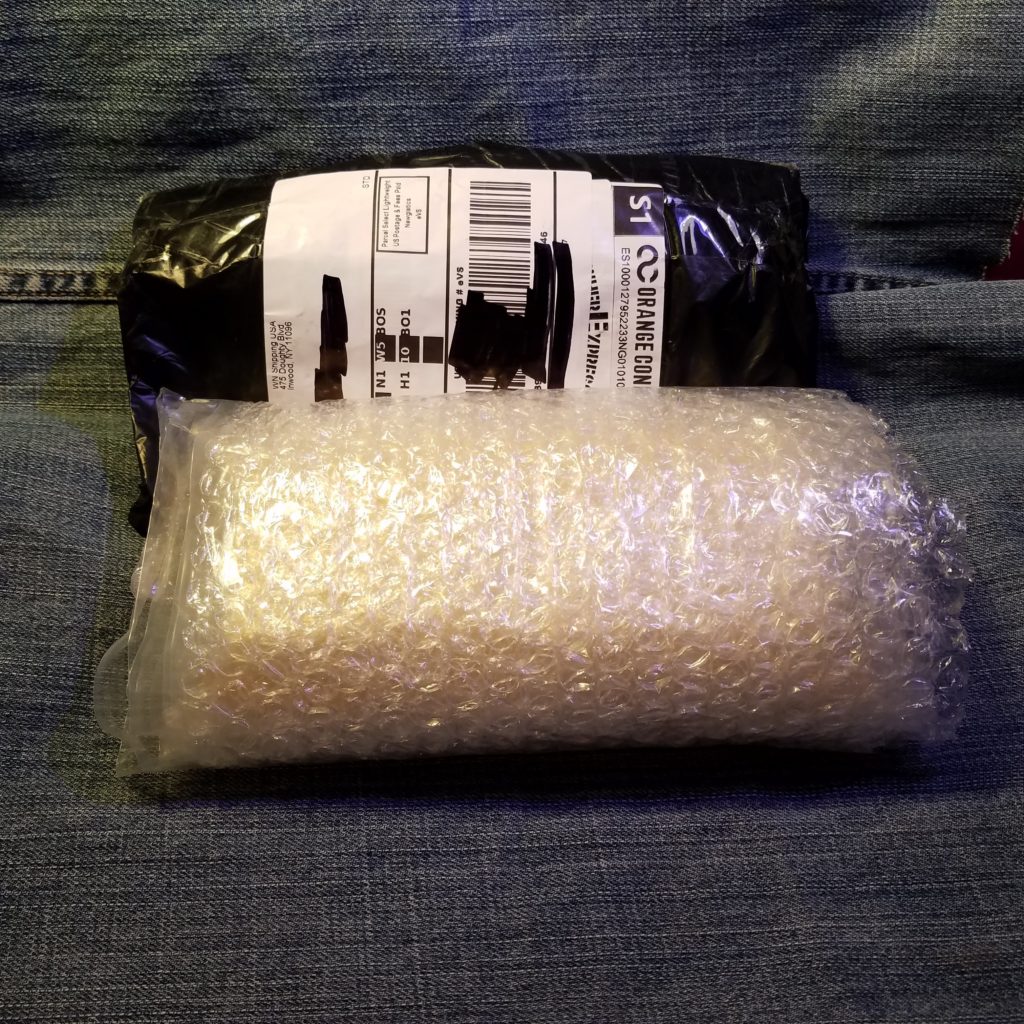 I wasn't sure what to expect when I ordered the Kaco, but I ended up pleasantly surprised and happy with my purchase. The bright pop of color is joyous and the hooded nib writes smoothly on everything I threw at it- from L1917, Baron Fig, to the cheap office paper we use at work. At $10.17 this isn't the cheapest of the cheap pens but it has a great presentation and really just works right out of the box. I could give one of these as a gift and feel good about it.