Bobby is an eBay seller who seems to primarily focus on fountain pens and other office supplies. Shipping took 15 days from the date I ordered. The cost of this little pen was a whole $1.39.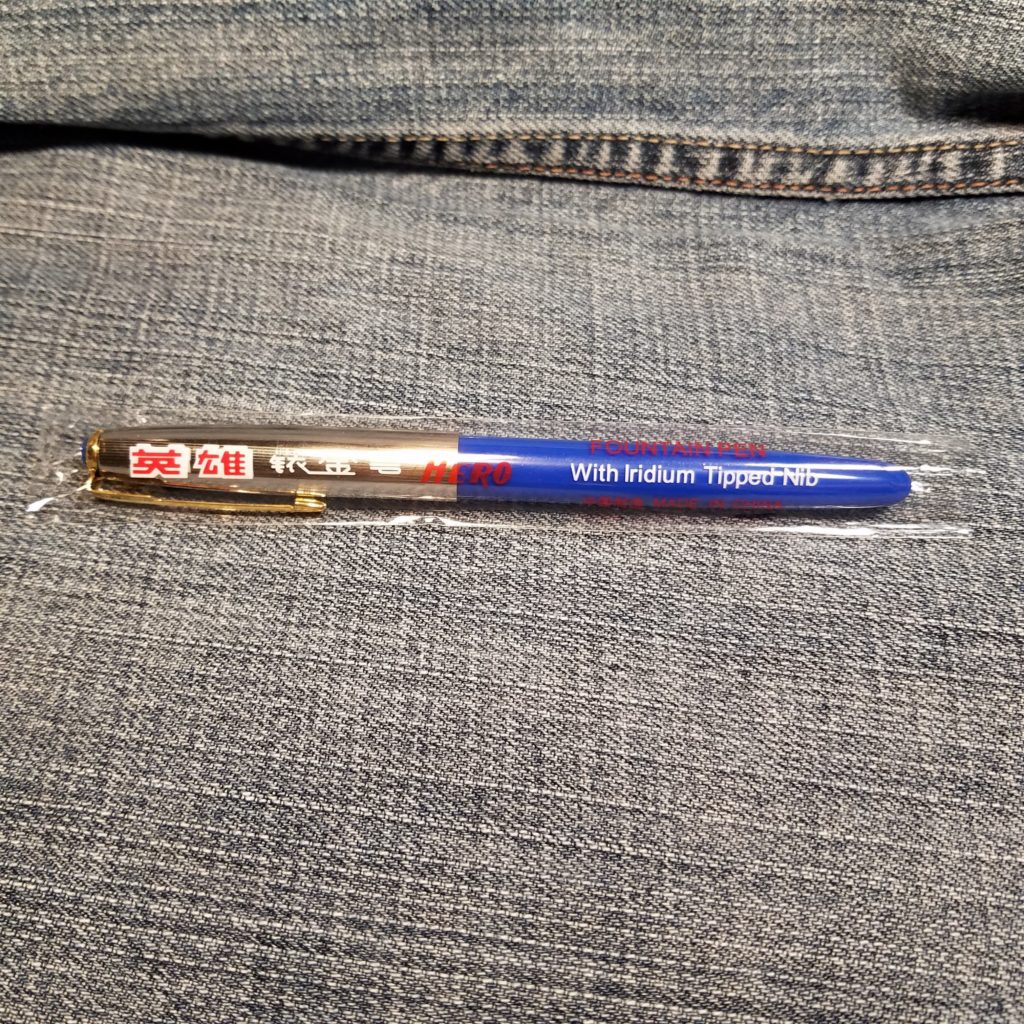 The pen arrived swaddled in bubble wrap and inside a yellow bubble envelope. The pen was inside a plastic sleeve with cheerful red, white, and blue printing.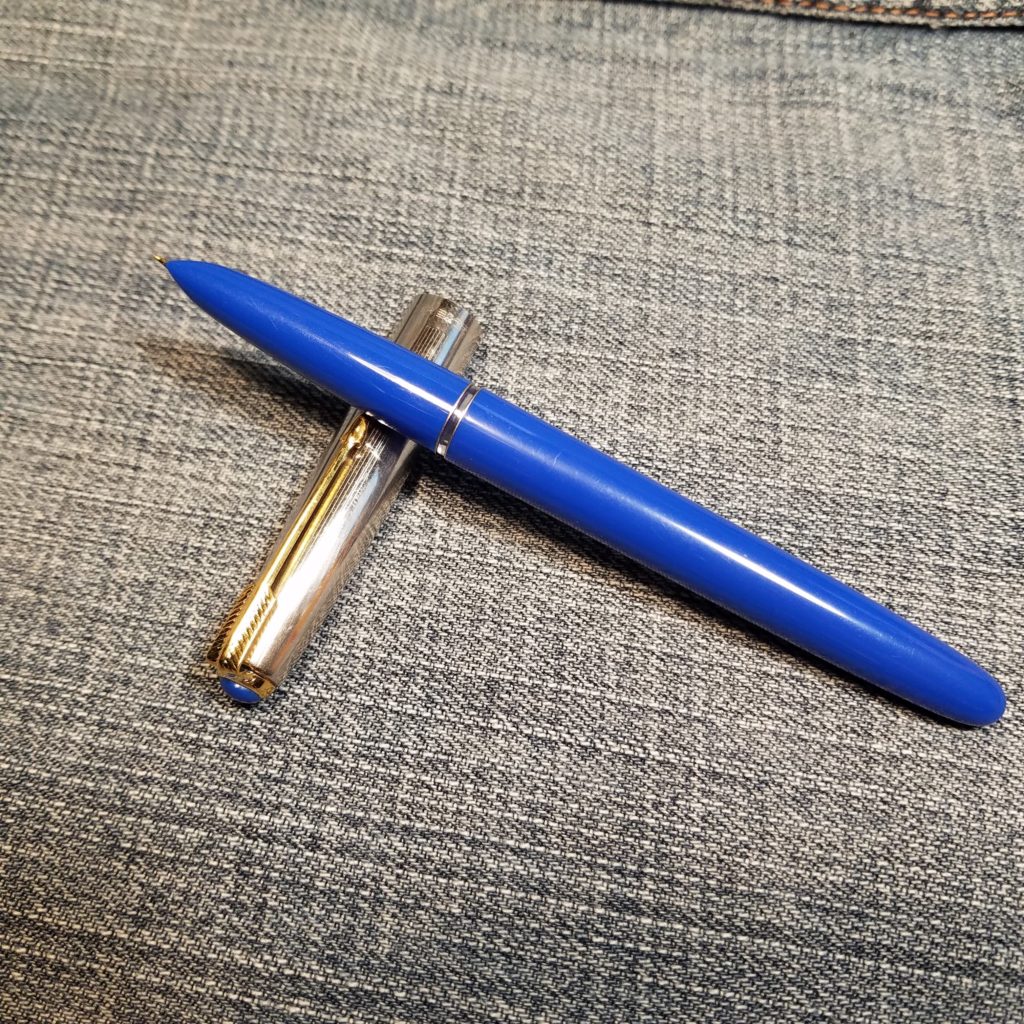 The pen outside of the plastic sleeve looks small and inexpensive. The stainless steel cap has lines engraved vertically. This version of the 616 has a brass clip. The plastic of the pen body is dull and flat. A little polishing might help bring out the shine.
The brushed stainless steel cap friction fits for capping the pen. Mine is secure but it would be easy to not cap it tightly enough and have the cap wiggle loose. The cap also friction fits for posting. I found that it posted deeply and securely. The cap and pen are so lightweight that the balance wasn't affected at all. I find this pen MORE comfortable when posted.
It should be noted that, in my testing, I carried the pen clipped to the placket of my shirt and neither the clip nor cap, ever came loose. However, while traveling to and from work I had it along with other pens, inside a hard shelled case. On more than one occasion I knocked my bag over or dropped the case. Upon opening the case the cap had wiggled loose from the pen. I would not carry this pen in the pen pocket of a bag or anywhere the cap could wiggle loose. It is certainly not a pocket pen, despite its diminutive size.
The nib is hooded and also gold toned. Mine arrived misaligned with the hood and the feed. A little work pushing and pulling aligned everything. Once inked the pen was a tad bit scratchy, so I ran it over my buffing stick. Ten minutes work gave me a pen that feels great.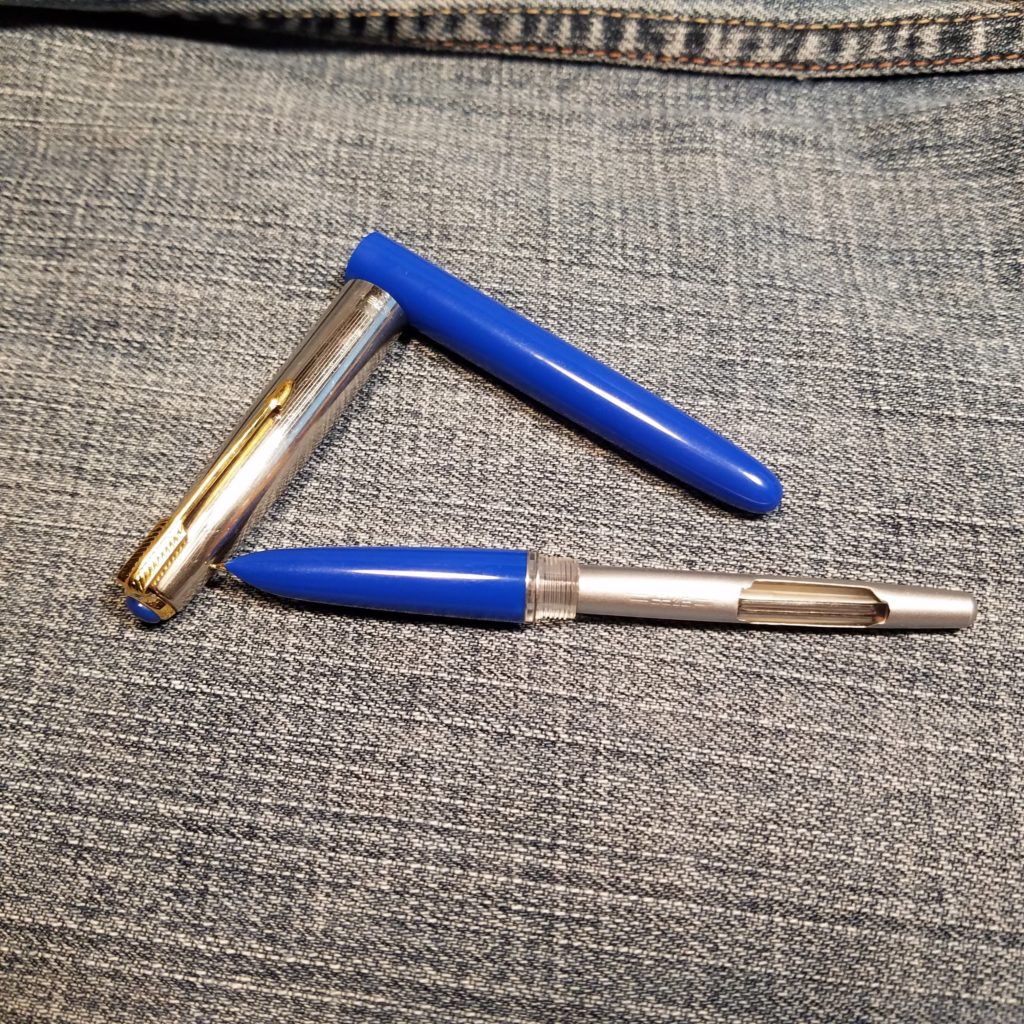 This pen is an aerometric filler. I've used the Pilot aerometric refill and that works well. The Hero aerometric is a piece of garbage. The small tube inside isn't long enough and the feed not set up to work properly, so every squeeze pushes out all of the ink. Testing this filler with water I was able to suck in about 1ml of water. Once dried and inked I was only able to get the damn things to suck up a little over half a fill of ink.

I also managed to cover my hands with ink. Sadly I have 2 more aerometric fillers that I need to review and each fill pissed me off. I will never order another cheap aerometric filler for review, but you'll need to suffer through 2 more reviews of them.

Overall, this pen is quite nice. The hooded nib once aligned and tuned writes like a dream. Like all hooded nibs, dependent upon ink choice, it just writes and writes well. It's an easy pen to like, it is, after all, a rip off of the classic Pilot 51/21. Sadly, they weren't able to get the aerometric filler to work well. I'll probably adapt mine to work with a standard piston type converter, but that's a kludge I'll share later. If you want to read about the original that this is riffed from check out Parker51.com it's a great resource.