This is a sharpener I never felt I needed to order. Yes, it's pretty. Can anyone really argue that it isn't? Hex and knurled and machined it's all the things I love in a pencil or pen. It's solid feeling and weighty in hand. The matte black finish looks great. It is desktop or pocket bling.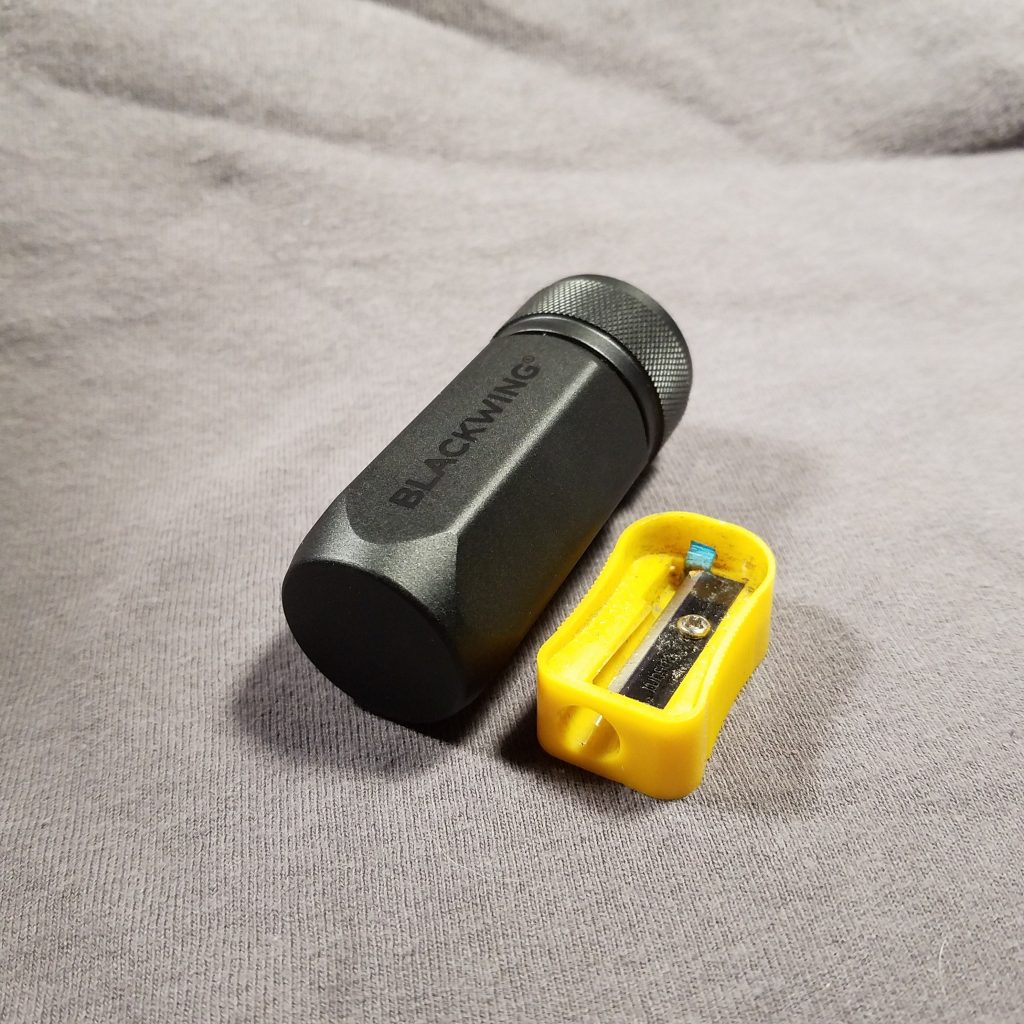 That solid feeling makes me think of fidget toys and other detritus made to carry about with you that have no other purpose than to weigh down the pocket or to play with when thinking. I've always been a fan of having a dual purpose fidget tool- a pencil sharpener or eraser makes a great option. Even better is a mint tin that contains a sharpener- as it can have some weight but also have something moving about inside. The BWOSLPS combines the shavings collection and sharpener all in one. 
How does it work? If you get a good one, great. If you get a bad one? Awful. (Check out Brad's review here.) This reminds me of the Pollux when it first arrived on the US shores, ahh so long ago in more innocent times. The sharpener often didn't work due to blades dulled by shipping the sharpeners loose in a large box. Sometimes a stropping revitalized dulled blades and sometimes it didn't. Like, Brad, I got a bad one. While my blade was sharp and didn't break points it sharpened to a stumpy concave point. I contacted Blackwing directly and they sent me  a replacement blade. If this weren't a $20 sharpener I'd fiddle around with it and attempt a scrape of the paint. But this IS a $20 sharpener and as such it should JUST work. More on this in a moment.
Single hole long point sharpeners can be an exercise in frustration . The BWOSLPS is one example. The KUM One Hole or Stenographer is another. When the KUM Stenographer was painted it was a piece of junk, but a $1 piece of junk. So scraping the paint off from under the blade was a worthwhile hack. It turned the $1 sharpener into something worth using. The Pollux is another example which I won't harp on here. When they work the concave point is a joy. You get an extraordinarily long writing point that is lovely to behold. When they don't work graphite shatters and wood is torn. A dull long point blade is a nightmare that destroys pencils. 
The greatest difficulty of any concave long point sharpener is a dull blade and so many makers of them push their release before replacement blades are available. Blackwing is no exception to this. New blades aren't readily available and those installed in the sharpeners are shoddy. Mine arrived with a lump on one end and unable to produce a long point. I received my Blackwing Branded replacement blade (it is the same blade size and shape that used for the KUM Masterpiece) and it works substantially better. The new blade does the job. I've said it before and I'm going to say it again, EVERY high end sharpener should ship with 2 or 3 extra blades. Blackwing could slice a small slot into their decorative box and accomplish this with ease and style.
But the point? I don't know what I was expecting, but it was more. I've grown to love the Pollux's lengthy concave point and the many pages I could write with it. Heck I even adore the Apsara long point. Or the point produced by the Classroom Friendly/Carl Angel 5. This point is shorter than those mentioned above. It's kinda stumpy. That said, once I fiddled around with it I achieved a decent point that does not shatter like many long points. This is s sturdy and long lasting point. It is not quite as long lasting as other mentioned points, but I got nearly 2 composition book pages per point. Not bad.
Dare I say it? This might be the long point sharpener for short point fans. Perhaps they should call it the Blackwing One-Step Durable Point Sharpener.
I know I said I wasn't going to hack or mess around with the sharpener, but I had to. No I'm not scraping paint, but I did add in a few paper shims at the point end in an attempt to make it more convex and stop the point from becoming a needle, and it worked. It takes it from a meh sharpener to an okay one. About 3 tiny slices of Post It note stacked gave me a nice long point that I like.
Is this a nice sharpener? Yes. Is it impressive? Sure, it's well made and feels lovely. Is it necessary? Well no, not even a little bit. Like the Pollux, it's a bit fussy and can be annoying. A Masterpiece produces a more even point, though not concave, but just as long. I like it. I think it's lovely. But would I spend another $20 on it? Probably not. I guess I just don't see it as $20 good. But then I'm also the person who glued a Apsara long point sharpener into a medication container and usually carries my sharpeners in a pastilles tin.