I'm going to start with this rather bold statement, I wanted to hate this pen from the moment I opened it's blister package. But I don't, not entirely.
The Gelocity is an inexpensive pen, a 4-pack costs $3 at Walgreen's and less if you look for a sale. They are sold in a blister pack ready to hang on a peg. There is nothing particularly eye catching with the package or the pen. As far as packaging goes, it is as standard as one can get.
What caught my eye was the 50% off sale offer. Except I didn't read the fine print, I needed to buy 2 Bic products, one at regular price and the second lower priced item at 50%. Well, crap. Still at $3 these aren't breaking the bank.
Once the package is open, you see that you get what you pay for. As far as gel pens are concerned you aren't getting much with the Gelocity. The pens look cheap and feel cheaper. The clear plastic is adorned with concentric circle blob things that look like doodles on might make in a design program when first learning. The end cap removes but you can't take the refill out from the end cap end, nope only from the point end.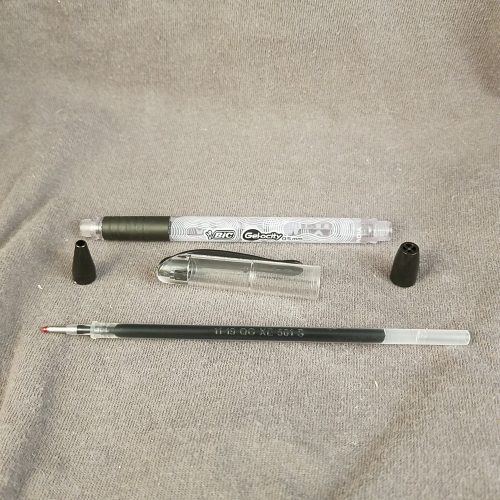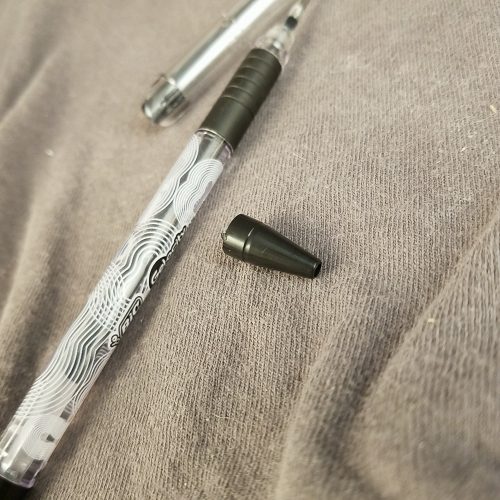 The cap itself is removed and posts with a satisfying click. The clip does not look like it will survive a day in a classroom let alone the amount of time it will last in use. The nose/tip is made of plastic, the whole pen is made entirely of plastic, except for the tip of the refill. This makes the pen ultra lightweight. It is also very narrow.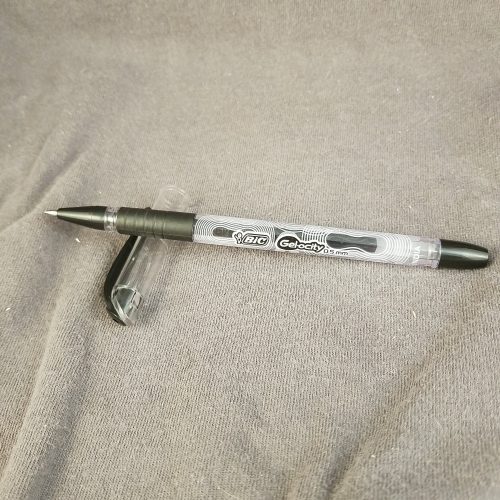 Which brings me to the grip. There is a silicone sleeve with some grooves molded into it. It sits above the area where the cap clips. It is too high for my hand grip, so my fingers grip the hard plastic of the cap clipping area. Which I found uncomfortable but not painful.
So the pen is not great in the feels department.
The refill though, if you like a narrow line feels and looks more like a 0.38mm to me. It isn't dry but has that narrow point scratchy feel of a 0.38mm on the paper. The gel ink isn't stingy it has good flow and is nicely black. The narrowness of the line is nice for some tiny doodling and sketching, allowing for some nice cross hatching and building up of darkness. I have not tested it for lightfastness. It does seem to have some water resistance but is not waterproof, so not a great sketching gel for anyone interested in using watercolors.
If you are in need of a bunch of pens for cheap this isn't the worst choice. If you are looking for a multi use pen that allows you to write and sketch with perhaps a bit of watercolor work added, this isn't it. 
This package of pens was purchased with cash money from Ko-fi supporters. If you enjoy and would like to support the blog, hit that ko-fi button on the side bar. Maybe pick up a copy of Useful journaling.