A slightly different port today. If you've been reading for awhile you know that I write novels (4 years winning NaNoWriMo) and I've been using Google Docs for this since, well, what seems like forever. I adopted it early on as a way to work on the go and on my breaks at the DayJob, as well as for my thesis in graduate school. My work style has evolved as docs has evolved. Let me go over my current method then we'll compare how other writers' tools work in future posts.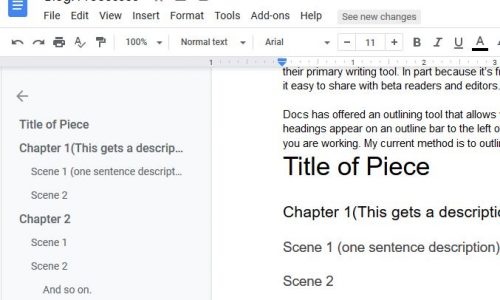 Docs is primarily a place to churn out words, and it's great for drafting large volumes of words especially if you are collaborating with others. Several self published authors I know use docs as their primary writing tool. In part because it's free and available on all their devices. It also makes it easy to share with beta readers and editors.
Docs has offered an outlining tool that allows you to create an outline and add headings. The headings appear on an outline bar to the left of your work area. You can toggle this on and off as you are working. My current method is to outline in a doc as so: (I apologize for this not looking like the outline style in docs, it did not translate well to WordPress.)
Title of Piece

Chapter 1(This gets a description)

Scene 1 (one sentence description)

Scene 2

Chapter 2

Scene 1

Scene 2

And so on.
All of this appears in the sidebar as soon as I designate them with a heading style. This is easily accomplished with a quick highlight and select.
The side bar lets me navigate through my document quickly and easily. Say I want to work on scene 5 in chapter 10, well I can easily find that one the side bar and navigate to it. Or if I decide to change a character's last name in chapter 3, and she's not mentioned again until chapter 10 I can toggle to chapter 10 and leave myself a note, "Don't forget Jane's last name is now Dough not Doe." I can highlight this or use a comment on the chapter title.
How has this worked in practice? Really well. It's simple and brainless. While I didn't plot my 2020 NaNoWriMo novel once I started and got an idea of the characters and setting, I plugged in chapter ideas and went back into the story and added in scenes and chapters as I needed them. It was very flexible. I wrote some of the scenes out of order and then cut and pasted them into the spaces where they needed to be. This was easily accomplished by toggling through the chapter and scene headings on the outline bar.
I use a similar method for the blog. I write a long list of the items I have for review, and turn each one into a heading:
AmazonBasics Mechanical Pencil

Wing Sung 601

Jinhao 51A

Super easy and this lets me quickly and easily toggle through my list of items and find them when it comes time to post them to the blog, then it's a quick copy and paste.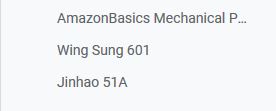 I mentioned in a recent post that docs worked better than ever before for my NaNo win. In past wins I broke my novel up into 10 to 15K docs. After that loading took forever and it wouldn't register as I typed, then an entire paragraph would slooooowwwwly load. It was enraging. I'd stop typing waiting for the doc to catch up with me. Loading the doc when I opened it would also take forever, the larger the doc the longer it would take. I remember waiting for one doc to load and it took a full five minutes! Not this year, even at 40k words the doc loaded quickly and kept up with my typing. It wasn't until I hit 45k that I noted longer load times and any lag in what I had typed loading.
Some positives:
It's free

Available anywhere I take my phone or have access to a computer with wifi.

Works well on all my devices, now that I have docs sideloaded onto my Kindle.

Outlining is fast and easy.

Load times and lag are better than ever before.

Many add ons to make it work better.

Super easy to just open up a doc and write.
Some Negatives:
Moving scenes and chapters is hard if you work out of order, cut and paste can leave you with missing work, create a copy before you cut and paste stuff!

Significant lag times at 50K or more words, even on high speed internet.

Add ons can slow the app way down.

No dark mode.

Uses Google Drive storage and does not back up elsewhere, so if google deletes your account, well, you're SOL.
Obviously this has worked for me thus far. When I mentioned the idea of "if it ain't broke why try to fix it?" to a friend, she suggested that I might LIKE the ease of use of a few other apps and sites. That the ability to easily drag and drop a chapter like a file is worth learning a new process. I've requested review access to a few pieces of writing software and apps. Thus far the learning curve isn't that high and they are easy to use. More on that in future reviews.