A thing that happens a lot among artists is that we find a tool we like, use the hell out of it and realize that it doesn't just work the way it is so we start to need to adapt our tools. This can be done simply with a knife or scissors. Or with the addition of layers of masking, electrical or duct tape. I often will use jelly silicone pencil grips to bulk up the grip of a pen.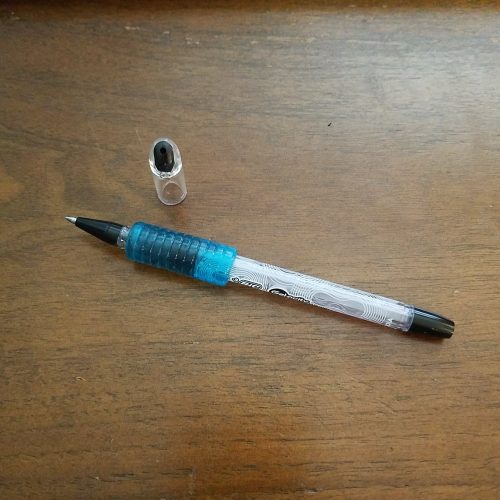 A case in point is this little number I did to this Bic Gelocity. You know the one I reviewed over here. Well it is not a great pen, but it does make nice fine deep black lines, but wow is it uncomfortable. I slid a gel grip on hoping it would slide around easily but instead it's a snug fit. I wedged it just above where the cap clips and used a pair of scissors to snip the cap off so it fits without needing to go over the now phat grip. The clip started to catch on the grip so snip snip, that went goodbye as well. I filed the sharp pieces of plastic down and now the Gelocity is more comfortable and not bad for sketching in a pocket notebook.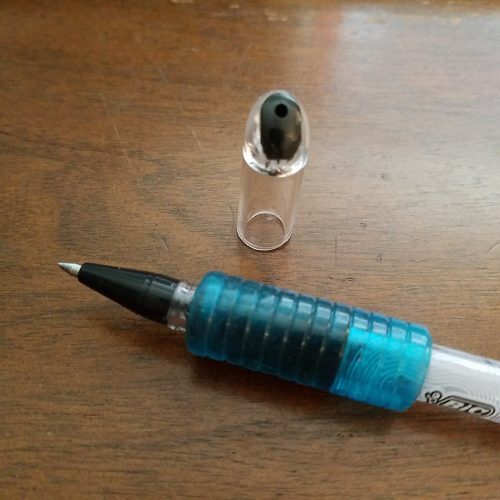 I've also removed clips that poke into the meat of my hand, bulked up pens with masking tape and made adaptive devices for other people with Crayola model magic.

I also have added a roll of fabric to the side of my mouse to adapt my grip to reduce stress. This is a temporary fix and I'll eventually go back to a ball but for now, it works.
While I would hesitate to make a more expensive pen 100% mine, I wonder why? Why not take my Sarasa Grand and bulk up the grip with Sugru or Sculpey? Why not stretch and slide a silicone squishy grip on there?
I might raid my pen cup and play some more.