It's been another week with the Eco(nomical) I've run it through a full fill in a variety of circumstances. I continue to enjoy the pen and it has performed incredibly well.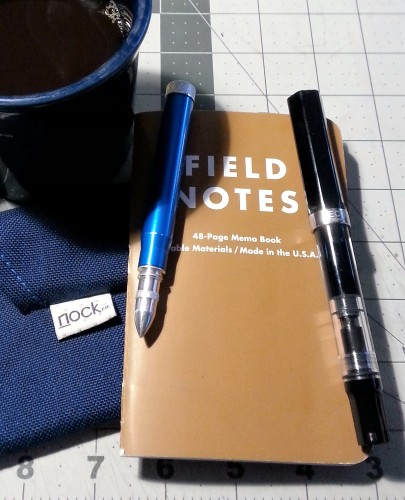 I have been using mine in my Field Notes with a personal blend of ink that is dark teal in color and based on the no longer available Scribal Workshop's Siren. The blend was to lend flow and smoothness to a nice ink color. The ink works remarkably well in Field Notes with  the EF Eco(nomical) nib. I experience minimal bleed and show through, and what does occur is not noticeable once I write on the reverse of the page. The pen and ink combo just works in my Field Notes.
The other place I've been using this pen is in a regular Roaring Springs made in the USA composition book.* This composition book is not a great one for fountain pens. Rather it sucks up ink and let's it bleed through. I did 10 pages of nonstop writing and the pen just delivered ink to the page, no skips, no burps, no issues. Smooth flow all the way. Compared to my TWSBI Mini, also in EF, the Mini started to dry up around 4 pages, and eventually stopped writing and had to be primed to write again. When a paper forces the pen to deliver ink above what the feed usually delivers, and the pen keeps writing, well that is a win in my book. The Eco(nomical) kept up.
I spent a day in a hot sweaty gym watching my wife lift heavy things in a skilled manner. I kept the pen in my FodderstackXL in my back pocket while I sat on hard plastic bleachers. I sat with a good friend and while we weren't getting up and cheering, Olympic lifting is more of a calm clapping type affair, we were moving about as we talked. Suffice it to say that this was not a gentle stress test. I've spent significant time at the new Dayjob and walking** around my city in warm weather. In walking in from hot humid weather to air conditioned cafes, I've not had many issues with burping or blobbing, in fact the issues I've had relate to my notebook picking up humidity from the air and allowing the ink to blur out. If I weren't stress testing this pen, I'd honestly be using pencil due to the humidity.
All of my previous thoughts about this pen stand. It is clunky and that clip is ugly as sin, but it writes, and writes well. The only issue that I really have with the pen (other than it's looks) is that the clip is super tight and doesn't just slip over anything. I have to lift the clip to slide it over anything. It'll slide onto the cover of my Field Notes or Comp book but that's about it. It refuses to slide over fabric of any kind, from thin dress shirt material to the thick pocket of my FXL. I'll do another update when I've hit around a month or so with this pen.