I've been using the Staedtler 900 25 pencil holder/extender (hereafter Staed925) since May. I haven't used it daily, but nearly so. Let's face it pencil holders and extenders range from ugly to slightly less ugly, but few are actually what I would term attractive. that is, until I received the Staed925. The Staed925 has an aluminum body that is anodized brushed silver, with the Staedtler logo in shiny silver. It's a nice contrast. The grip is nicely knurled. Enough to be grippy but not so much you feel like you can sand off your callouses.  The lead grade indicator ranges from 2H to 4b and stays put until it is moved.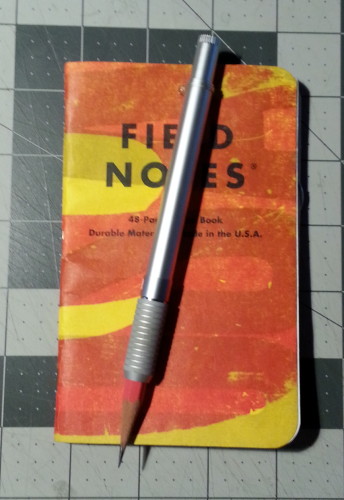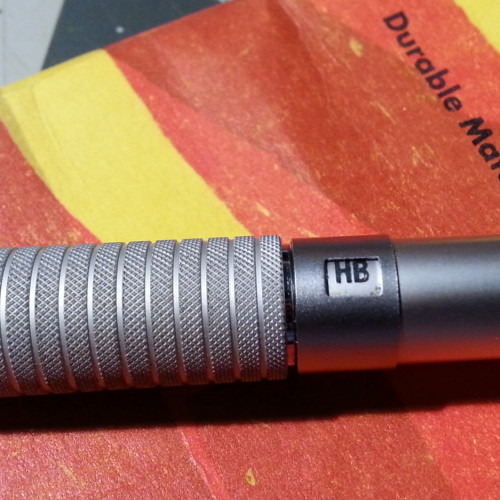 I'm going to address my two issues with this pencil holder. First is the useless atrocity of a clip. This clip is a hemorrhoid on the entire design of the holder. With all of the pretty design that went into the holder, I cannot imagine why they would chose to sully the clean lines with this ugly clip. the clip is serviceable enough, it's a simple fold over design. It is meh. The other issue that I have with this holder is the eraser deployment mechanism, in that it is also an after thought. The crimps for grip clash with the precise knurling of the grip, and look shoddy. Instead of raising the eraser, the tube around the eraser screws into the body of the holder. It's dumb. The eraser itself is quite nice and I use it far more often than I ever expected.*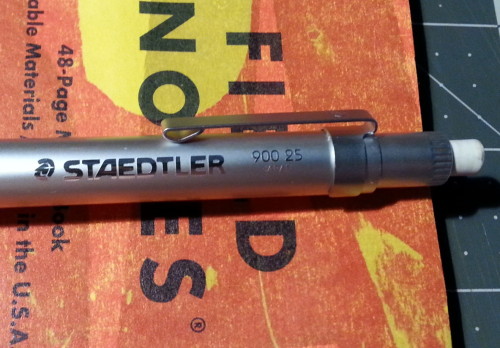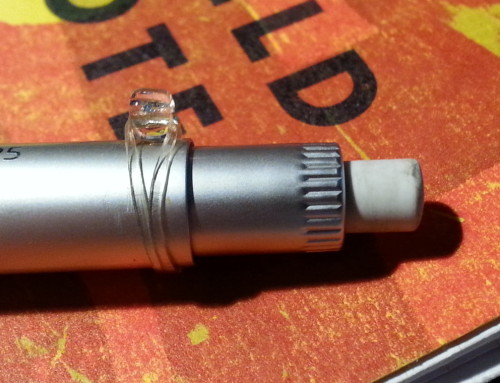 I replaced the clip with a clear silicone band and a clear glass bead. I have no need of clipping the holder to anything, but the bead and band keeps it from rolling off my desk of cafe table when I set it down.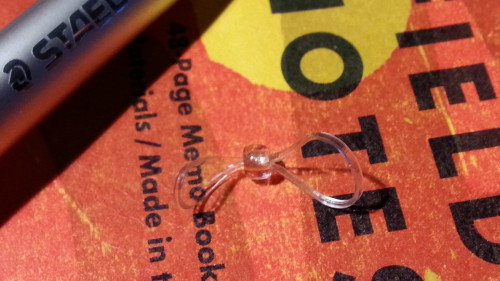 The grip is turned to loosen to remove the pencil and tightened to create a vise-like grip on larger sized pencils. I found that while it held a USA Gold I was not able to sharpen the pencil while in the holder. Which is very unlike larger, thicker Japanese pencils like the Mono100 or the thicker Palomino Blackwing. These were held in a strong grip and I was able to sharpen the thicker pencils.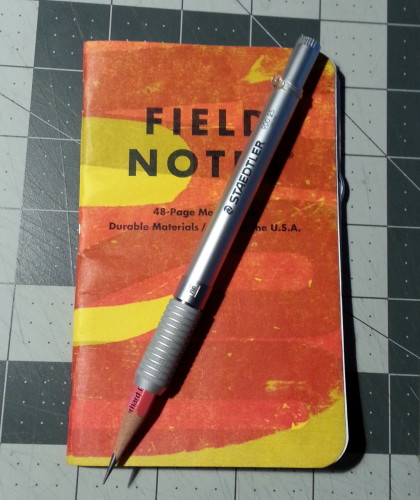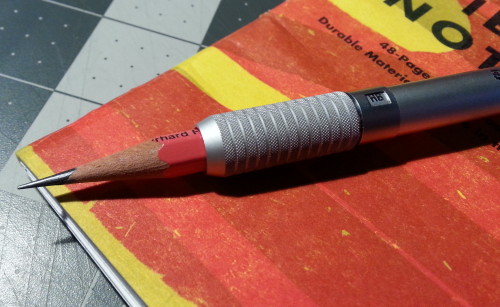 Anyway, until I received the Staed925 pencil holder/ extender my Derwent extenders** were getting a regular workout. Now I only use the smaller of the two Derwent extenders for the smaller thinner pencils. This holder feels like a pen and a nice pen at that. I feel fancy while I use it. Who doesn't like to feel fancy on occasion?
You have a few options on buying this holder. Jetpens and various sellers on Amazon. If you have prime it's cheaper at the 'zon. There are also sellers shipping it straight outta Japan with free shipping. Choices, you have them.  For my Euro/UK friends this is available via CultPens as well.