This weekend I picked up a bargain priced sketchbook at B&N for about $5. I thought it was a no name brand that B&N often sell. When I got it home I realized it's a Piccadilly branded journal.
The list price on this sketchbook is $12.99; I got it for $4.99. Less than half price. I noticed that B&N didn't have ANY of these on the regular shelf. So I'm thinking these are only ordered for the cheapie racks. Which is fine, at $5 this isn't a bad deal but for $12.99 not worth the money.
I tested this with a variety of inks in a variety of pens. I did a little sketching to see how the paper would respond and I did my usual of an ink and water wash.
Anything with a larger than a fine tip feathered and bled through the paper. There was a TON of feathering especially in my medium tipped and wet writing Pelikano. My extra fine and fine pointed pens did okay, regardless of the ink. I tested both sides of the paper and there is no right/wrong side, the sides have the same finish throughout the journal. The paper is very smooth. I wouldn't want to use a pencil on this paper as it's just too smooth and pencil would smudge all over the place.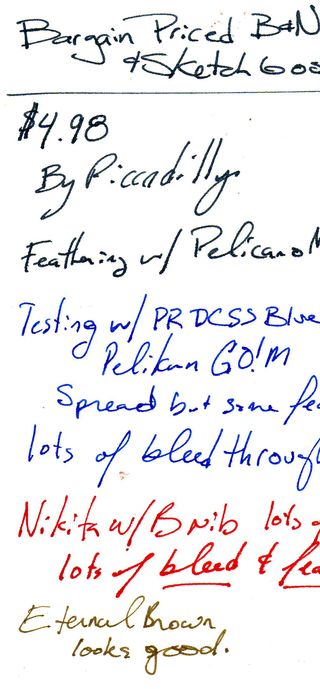 As for water on this paper, it could be done but it's not recommended, a very light wash caused major cockling (wrinkles) that never eased out of the paper. I also noticed that really heavy application of ink caused the same issues. Anywhere I used a heavy layer of ink it not only bled through the paper but also to the page underneath. Anywhere there was heavy ink use the fibers of the paper lifted and were picked up by the nib of the pen.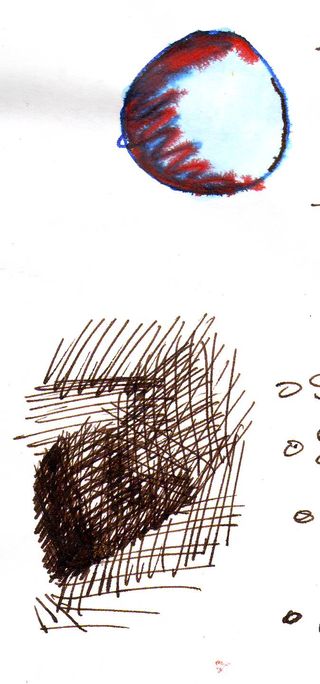 The Pros:
Good value at $5
Paper is smooth
Bright white paper
Great sturdy hard cover
Sturdy double coil binding
Cons:
Feathering with any ink
Bleedthrough
Fiber lifting
No water due to cockling
EF and F nibs or pencil only
Overall I'd say this is a good sketchbook for someone looking for something cheap that they can do a lot of throwaway sketches in or just to take some notes. This little journal probably wouldn't stand up to a lot of the abuse that art journalers would toss at it. Even if you gesso'ed the pages the paper is just not sturdy enough. It's too bad, because this is a really good looking little sketchbook, and comes in a lot of good sizes and with lined paper too which has a lot of different options for covers.