Nataraj pencils are made and distributed by Hindustan pencil company, much like my previously reviewed and adored Casemates (which are distro'd by Walmart). I picked up these two packages of pencils from the 'zon for $4.99 each with free shipping. Each pack holds 10 pencils, a white plastic block eraser, and a plastic sharpener. For anyone keeping track, that's about 50 cents per pencil, though factoring in the sharpener and eraser it is about 42 cents per item in the package. The package itself, I should have taken a picture, was well done. The pencils were in a tough plastic envelope, then in styrofoam packaging, and the 2 boxes were wrapped like a gift inside the protective foam package. All in all it was like unwrapping a slightly bizarre gift. Shipping did take about a month. It reminded me of old school mail order. Ahh memories.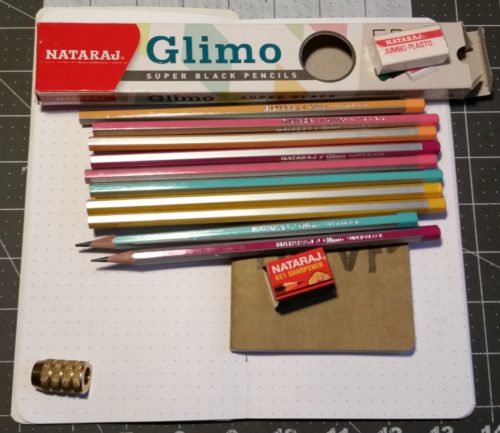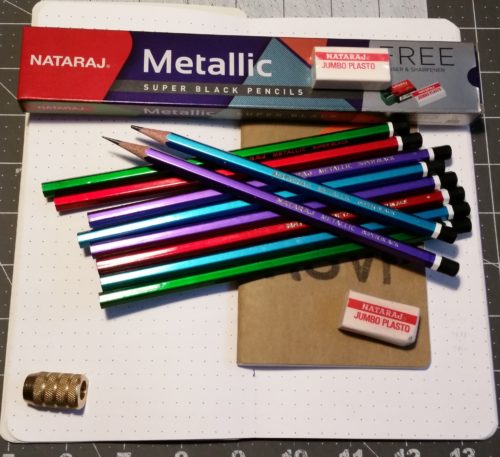 After unwrapping my gifty to myself I was greeted with Nataraj's fun pencil packaging. While companies selling in the US seem to have moved toward clear plastic shrink wrap and stickered belly bands, Nataraj uses cardboard boxes. Each package matches the contents well. The Metallics have a metallic box with a pebble finish, while the Glimo has pastel colored diamonds in the colors of the pencils. The Glimo has a diecut window. The packaging is nearly identical except for package date stamps and a line that the metallics meet international quality standards. My pencils were all packaged in 2015, so they aren't particularly fresh. But then pencils really seem to last forever if stored properly.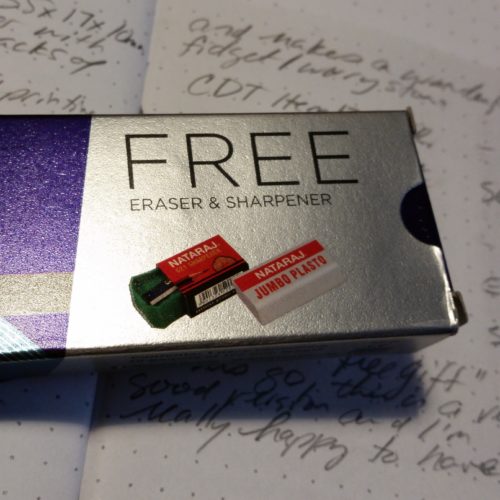 Anyway, inside the packages are some nice metallic pencils. The Metallics have gorgeous jewel tones that really shine. The camera cannot pick up the color well at all. It's seriously glimmery and shiny and reminiscent of dragon flies of nice metallic flake paint on a car. They sport a nicely done and jaunty white and black end dip that looks awesome with the metallic paint. There are blue, purple, green, and red. The Glimo features silver stripes with a coordinating pastel colors of magenta, pink, peach, yellow, and pale teal. The end caps are a nice thick dip of the pastel color. The silver is barely metallic and in some the pastel shade is a touch thin, but overall these are quite well done.
On all of the pencils, either Metallics or Glimo the paint is mostly well done, with the occasional pencil with drips and runs. I had one in each box that had not only visible but runs that could be felt under my fingers. Mostly they were okay. The wood is jelutong and sharpens well in all my sharpeners. The cores are centered in most of the pencils, off in about half, and out of each box one was badly off centered, but still usable.
The core in these is the same, Nataraj's "Super Black." The super black core is very dark for writing. It is also nicely smooth and glides across most papers that I've tested them upon- from Yoobi Comp books, Field Notes, Story Supply Company, Life, Tomoe River, and No Brand Notebooks. (Handwritten review is done on a NBN dot grid traveler's size.) They glide, which is the best way to put it. Not quite skate, but glide. It's smooth dark and a nice feel. I believe this is the same core as the Casemates Premium, which is slightly different than the Casemates Neon. It's darker and smoother. The Neons seem to have more occasional bits of grit and are slightly harder with better point retention/durability.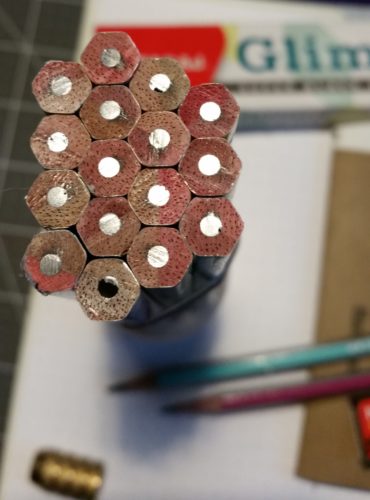 Speaking of point retention and durability, there is batch variation. I've sharpened a few of each, okay one of each color and I've found that most of them are almost the same in terms of how many comp book or NBN pages I get, but one, the blue metallic is super soft and even darker than the others. The rest I'd rate around a Staedtler B in terms of point retention and durability the one oddball is closer to a 4B. The majority are closer to a Staedtler 2B in their darkness. That is to say I'm able to get around 4 composition book pages written before I reach for another sharp pencil.
I love how these look and how they write. Sure they are about 50 cents per pencil, roughly 4 and a half times the cost of most of the Walmart Casemate pencils. The trade off is the better paint jobs, consistent cores, no badly afixed ferrules, and  eraser turds. That said, if you don't want to spend the money, getting the Walmart Casemate Premium pencils is still the best priced option. That said, I immediately sharpened one of each color way and added it to my novel writing pencil cup. The fun colors and metallic sheen make me smile.

My one worry right now is that these have gone the way of the Nataraj/Apsara Pop, which have an awesome coloring scheme, and have been replaced with the less awesome color scheme of the Nataraj Joi.