I've been working on some special journals. What I've done is take one of the posters I make the jotters out of, cut it up into smaller pieces and then I've journaled on it. So each chunk looks like a giant page out of one of my journals, or is a giant journal sheet. It's what I've been working on over the last few days which explains the lack of real blogging, tweeting and facebooking I've been doing. I'm really excited about these journals.
I'm working on 4 of them right now or rather I've got 4 covers completely finished. So far I've got one book completely finished and one more almost done. They are filled with 50lb, 100% cotton bright white sketchbook paper, 200 pages of it and are stitched with a linking long stitch. I used bright red Irish linen thread for the stitching.
The journal art is sealed with clear acrylic varnish, that allows you to feel the texture of the art but wipe it clean with soap and water if you spill coffee on it, and the art should be undamaged.
I'm still working the details of the pricing out but they will eb listed on my artfire account this evening.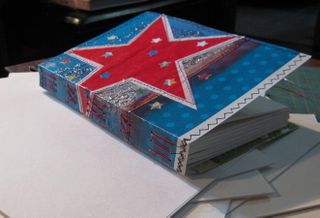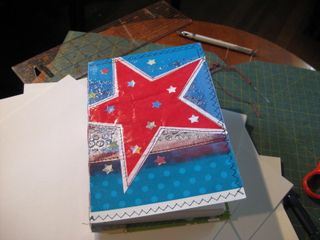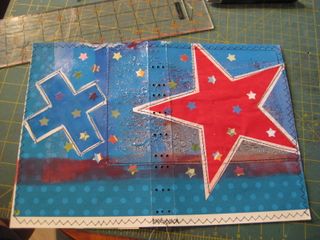 The journal picture is titled "Super Star." I've got more pictures up on my flickr page.