On Tuesday I found a few old posters at work, I asked the
representatives about them, if they were to be used again all said no and that
I could have them. I knew that at least one of the posters was at least 3 years
old, the other at least 3 seasons old. I knew in advance that they wouldn't be
used again. Bringing them home I tried to figure out what I was going to do
with them. I knew that I wouldn't be able to glue to them- one was a thin sheet
of plastic and the other typical vinyl coated ad glued to thin foam core.
Neither of which would take glue well, I knew it was going to have to have
Coptic stitching to use these posters.
SO I cut them all up, somewhat randomly to 3.5×5.5 inches
and then punched a series of 4 holes in each cover. I also matched up the
covers with some recycled backer board (very much like book board) that I had
saved from packages of tags also from work.
I expected that I wouldn't have a chance to work on any of
these books until Friday, when I was to have my 2 days off. Instead I caught my
significant other's cold and I have been sick and I'm still ill. It's one of
those head colds where concentration is difficult and "stuff" comes from
sinuses. Let us not talk about that. Let's talk of pleasant things like Coptic
stitching.
It's been awhile since I've done any style of Coptic stitch,
other than long stitch. I've been quite caught up in this recycled thing. So
I'm out of practice and on the first 2 books I made, it shows. The first one I
made was a standard 2-needle sewing done twice. The first set of stitching went
well and looked great. I started the second set and it went well until the last
signature. Where I forgot myself (James Bond Double OH Days of Christmas on
Spike- my favorite cold weather TV marathon) and pulled in the wrong directions
with too much tension. The combination of DayQuill and James Bond made me want
to find a bad guy to toss it at to distract while I got away… (Only partially
kidding, DayQuill does make me a little loopy.) I patched it up and cursed the
fact that I had tied off the other set of stitches already, because if I hadn't
I would have been able to simply remove the bad signature and attach the cover.
Ah well. See some pictures of my mistakes below.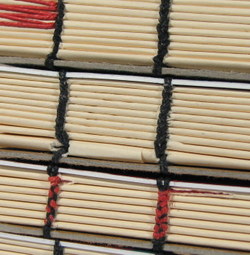 The next mistake I made was when I decided to attempt a
particularly difficult Keith Smith stitching where you attach the covers to
each other first and then stitch on as if you are sewing onto cords. Instead of
attempting this sewing with a single cord I attempted it with a double cord and
a pack. Here again I blame the DayQuill for giving me a sense of ability far
beyond my 2 year lay off from a stitch. It's far better to practice a stitch a
few times before attempting it on a cover you like. It's also better to
practice on easier stitched before attempting something so… Difficult. (Before
anyone leaves a message scoffing at the difficulty of said stitch I implore you
to go take a dose of DayQuill, fill your nose with mucus, smack your head with
a hammer and get back to me after attempting any stitching.) Again check out
the picture below. I realize now looking at the picture that though I wanted to
do a loop and pack I didn't pack as I had intended. Go figure.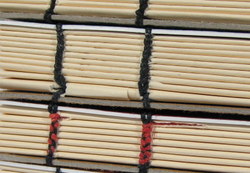 The next 4 books were very successful 2 single needle
coptics, one with a larkspur and braided linen book marker, one double needle
stitch twice on the spine and a particularly interesting spine with black
leather "split tapes" with a stitch and pack on them. The leather is then
stitched onto the cover. For all the work that book was it's my favorite. I
love the binding and it just looks great. The red on black is a great
combination and the dense heavy stitching is fantastic as well.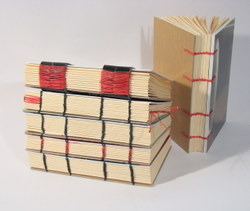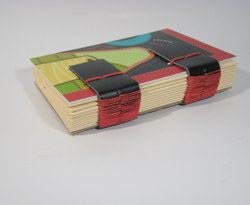 I fell in love with the book with the coffee cup and coffee
beans. I managed to punch the holes on it upside down but still I love the
cover and I'm keeping that one for me, a little feel better soon gift to
myself.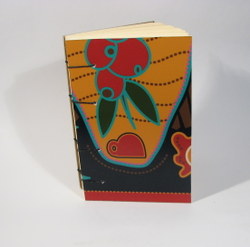 Each is filled with 200 pages of Wausau opaque in ivory,
unlined, acid free paper. I cannot vouch for the archival or acid free nature
of the covers. I did test the backer board and it is lightly acidic. The
stitching is all done with hand waxed Irish linen thread, unbleached but dyed.
The 3 books without imperfects will be up on etsy later today and I'm deciding
what to do with the 2 books with imperfections. I'm considering putting them up
on eBay as a set. Or maybe something fun.