Initially I got this idea from a youtube, I can't remember the name, her video was about alternatives to Tattered Angels spray inks. At $9 for a bottle the inks are expensive. I found some walnut spray ink for a 4 or 5 oz bottle for the same price. That's pretty pricey to me. She used an assortment of alternatives, Kool-Aid, ink etc.. What caught my eye was her use of stamp pad refills.
You'll need the following:
1 bottle isopropyl alcohol, I got 91% but you could go 70% ($1)
6 Hand Sanitizer Pocket Spray bottles. Mine are Walgreens brand but any with a removable top will work ($1.50 each) Each container holds .75 ounces of liquid
1 package Posh Impressions Inkabilities 6 pack refill inks ($15) I got the Earthtones set. Adirondack Sells 3 packs for $10 with larger bottles in a greater range, either brand will work. I liked the selection for the price of the Inkabilities
PLEASE keep in mind that isopropyl alcohol is FLAMMABLE. It would not be a good idea to have an open

flame

while using these as the spray will light up.

THIS IS A FIRE HAZARD.

I Do not take any responsibility if you do something foolish and burn down your house or apartment.
What to do:
First empty out the hand sanitizer spray bottles. I saved mine in an almost empty bottle. I don't use the stuff, but Christie does. Wash the bottle in warm water. I rinsed until I could no longer smell the stink of the sanitizer.
Then I cleaned the sprayer out. To do this I filled one of the bottle with alcohol, and squirted 3 pumps through the spray head. Then I pulled the spray head out and sprayed until it ran dry. Good enough.
Then I filled each container half full of alcohol.
To this I added about 20 to 30 drops of ink to the alcohol*. twist the cap on tightly. Really tight. Shake.
Spray. Check intensity after the ink dries. Add more ink 5 drops at a time to get the desired intensity.
Now spray to your hearts delight.
My intent is to get some spray paint effects and increase my love of hand cut stencils…Tell me in the comments what you think and link to pages where you use it!
Some pics: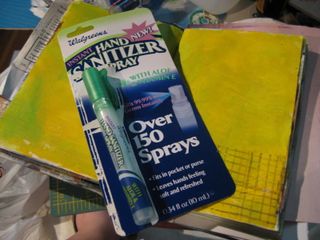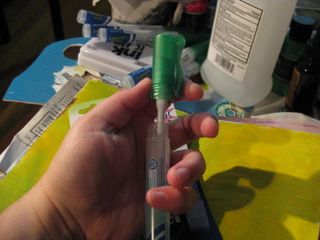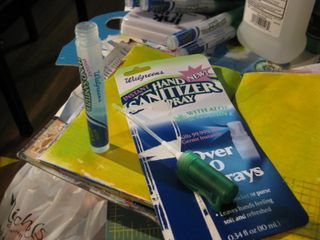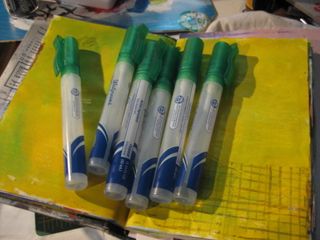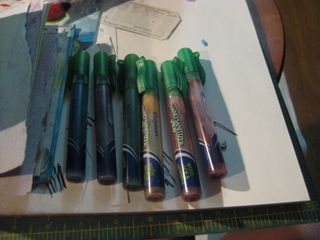 You might be wondering why I'd choose to use a hand sanitizer bottle instead of the Ranger little spray bottles. The hand sanitizer bottles are 2 for $3 regular price. I've seen them on sale at CVS for $1. The Ranger spray bottles are 3 for $5. It's a 16 cent difference to the regular Walgreens price, whcih isn't much. But I also know that the hand sanitizer spray bottles are pretty robust, designed to spray a gel in a very fine mist. That fine mist is what I'm looking for. The Stampington spray bottle I've used spatters, I think it's supposed to but I find the effect annoying. I also wanted to find a new use for something a lot of people might already have around. I know a lot of people use these spray bottles. They are designed to be tossed around in a purse so I know they are sturdy and don't leak as long as the cap is on it. Also as something that is designed to hold something that is alcohol based I know it will stand up to the abuse well. Not everything will tolerate the abuse of alcohol. Also these little hand sanitizer bottles only hold .75 ounces of fluid.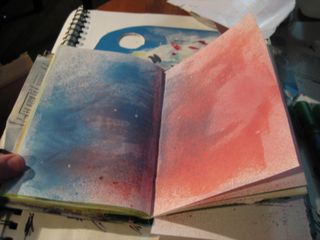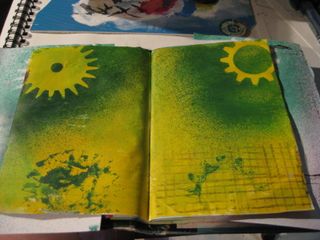 Also, thought not pictured I mixed a 50/50 mix of alcohol and india ink in a Stampington spray bottle and holy shite it's awesome. Anyway, everyone should try this. the total cost for me was about $25 for 6 colors not including the india ink.
Somethign else that is great that you could get extra spray bottles and mix colors- 10 drops yellow, 20 drops green for yellow green or 10 drops glue and 20 drops green for blue greens. You could create a completely individualized line of colors for your journal. ALSO you can remix fast and easy. It would take a long time to go through those refill.
*Do this step in a place where your floors are an easy clean up, becuase if you are like me and knock over your RED sprayer before you get the cap on it, it makes  a god awful mess. I can't image what it would do to grout. This stuff stains. However as it is alcohol based alcohol and the saved hand sanitizer does a great job of lifting it off hardwood. Trust me I know, it came off my oak floor very well. I'm really glad I have down a vinyl sign as a safety mat for my slobbery.