This large 6×9 inch journal is entirely handmade. The cover is hand cut from a smoothly textured jet black cowhide. the spine of this journal is 1.5 inches thick.
The inside pages are 160 unlined 110lb cardstock. The color of these pages is a warm cream color. The texture of the pages is perfect for writing and sketching. The paper is acid free. It's a wonderful thick paper perfect for writing with a heavy fountain pen, no feathering or bleed through in my experience. It's a lovely paper.
The pages are hand sewn to the cover with unbleached naturally colored Irish linen thread. It's been lightly waxed to prevent fraying and tangling during sewing. The sewing style on this journal is a variation of the long stitch. The there are 3 keyholes that peak through the cover to the folded edges of the paper.
The back cover folds over the front to form an envelope style flap. This protects the inner pages from damage but also holds everything secure. It expands allowing you to stuff as much onto these pages as possible. From the flap emerges a long matching leather strap that ties around the journal and to itself to hold everything inside securely. With 160 pages to glue or stuff into this could end up being a very thick journal.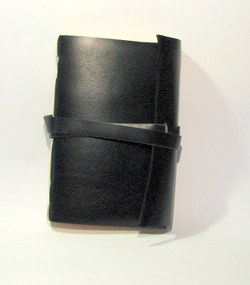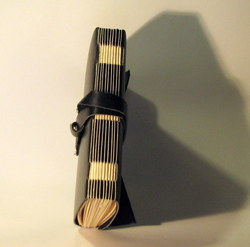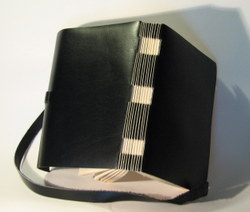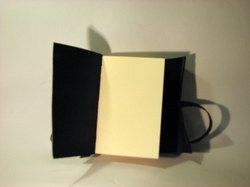 ON etsy here.