So these 3 journals are hard cover hedgehogs, covers are bookboard covered in hand made papers of various origins. The tan journal is covered in Lama li paper, the gray journal is covered in this odd gray recycled paper I found in Maine at The Craft Barn- it'[s filled with all sorts of fibers and is buffered for longevity. THe final journal is covered in one of my favorite handmade papers- thick, soft and green fiber filled textural paper. I love this paper it was really pricey but I fell in love with it and had to have it. It got a great fabric like feel to it. I want to keep this journal…
Here are the pics: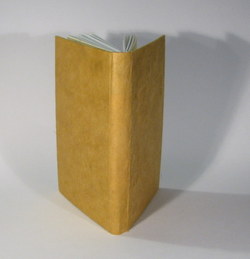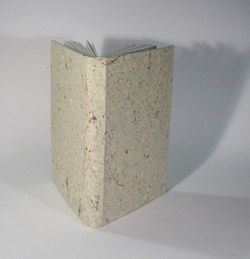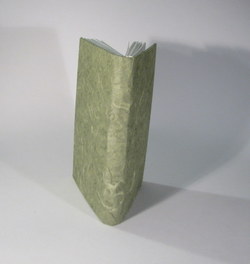 When I was making the book blocks I forgot to trim my paper to size, so when I finished the block they were all an inch too wide. I headed to my local Staples (the one with the crabby manager) and their print shop to get the blocks trimmed. When I asked the guy if he had a paper shear he at first said no, when I pointed to the electric shear right behind him and asked what is that then? He said oh you mean the electric trimmer? I then asked if that would trim the fore edge off my blocks, and he said he didn't think it would cut through the stack. He then asked me if I needed the spine edge cut off. I re-explained what I wanted and he got it. He still didn't think the machine would do it, but I inisted that he try, so he did and they came out pretty good. You can see where some one tried to cut through a staple or a paper clip as the blade had several nicks in it, but the price I paid to have 6 blocks cut down to the needed 3.5 inches was well worth it.
I'm using the last 3 blocks to make some leather hedgies. I've got several buckskin hides that are nice and distressed.