David Reese might refer to mechanical pencils as bullshit but I've had a long standing love affair with these wondrous pieces of awesome. From my first knurled metal gripped Koh-i-Nor to this pencil, I love 'em. Well, except for that cheap ass Kuru Toga I previously reviewed.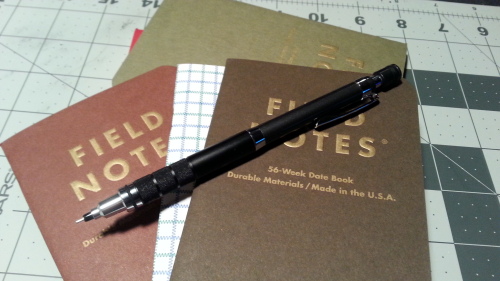 Enter the metal bodied version of the Kuru Toga, the Roulette. I have previously discussed the smooth metal bodied version, this one is knurled. And the knurling is nice, it's crisp and grip-y and completely not slippery. Which was a problem I had with the smooth metal gripped version of this pencil.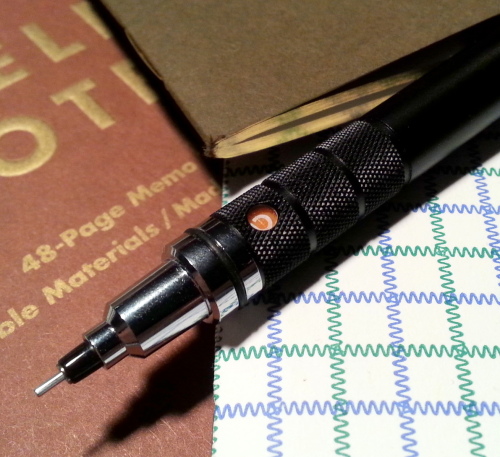 The balance is just right for my hand. With the larger weighted end of the pencil being at the business end and the lighter end being the rest of the pencil. It is also important to note that Uni cheaped out and made the rest of the pencil out of colored plastic.  While the pencil is metallic and perfectly matches the paint, I do wish it was made out of the nice aluminum of the grip section. I find that the plastic is less noticeable on this version than the pink version, possibly because the grip and the plastic are the exact same color.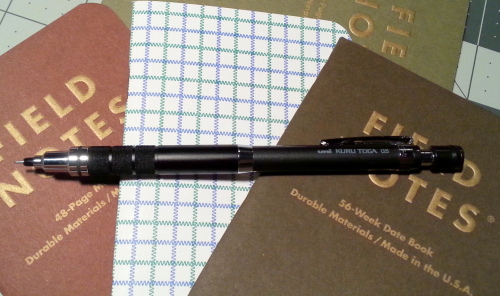 The tip floats a bit as it needs to be able to move up and down without friction thus has a loose-ish fit in the cone. It's barely noticeable as I'm writing. The Kuru Toga "engine" does it's job and moves the tip in miniscule amounts as I write, keeping the edge sharp and crisp. The line doesn't widen at all, it's stays the same. IF I remember to not rotate my pencil. Since I've been writing with wooden pencils all summer I have gotten back into the habit of rotating my pencil, so in effect I defeat the mechanism.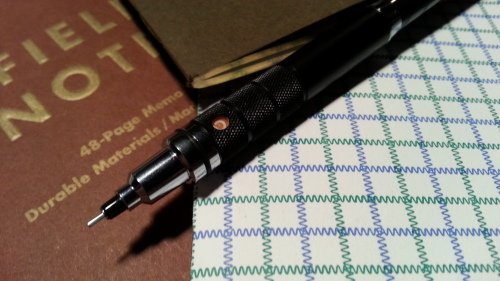 The key to making these pencils work well, it to not rotate the pencil as you write, something that is hard to stop yourself from doing if you've been making yourself do it for a full 4 or more months. It also helps if it's held at more than a 45 degree angle. Steeper angles don't provide quite enough force to the mechanism to actually rotate the lead. So it just acts like any old pencil.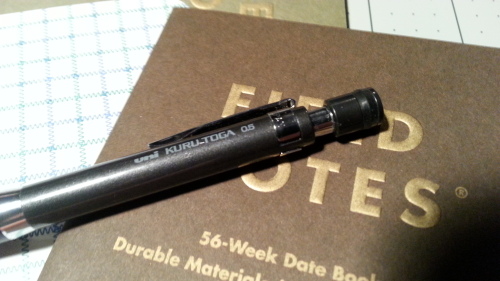 Anyway, bullshit aside, this is a great looking and feeling mechanical pencil. I break very few leads with this beauty and my writing is crisp and accurate, well as crisp and accurate as my crappy handwriting can be. The price isn't bad depending on where you purchase it. I found mine on Amazon for about $10, but they are now out of stock. On Jetpens they are $16. In my opinion, if you are looking for a great mechanical pencil, the knurled metal grip Roulette is a fine choice.