Here is another pen that if I'd reviewed it when I first purchased it would have received a better review than after about a month of on and off use. I resist my urge to again rant and rave against drive by beauty reviews that are pretty but lack a substantive amount of use to back the reviewer's claims.
I picked up a 3-pack with red, blue, and black capped pens. The pen body is made of translucent plastic the same shade as the pen which is then covered in a print. The print is in black and gray and looks to me like a generalized idea of black carbon fiber… The pattern is slightly raised and feels nice. The cap is smoke colored with an inset attached to the clip matching the ink. The cap secures over the business end with a nice click. It posts deeply and I have no fear of losing it.

The pen is lightweight and well balanced both posted and unposted.  I found that the grip section was slippery in longer writing sessions and that I could feel the coordinating colored bit. Something about this annoyed me. I think mostly that the section was slippery and thus I had to  adjust my grip frequently. I am not a sweaty hand person, I use metal and plastic sectioned pens all the time with no issues. So this was not a matter of my hand but the slick nature of the plastic.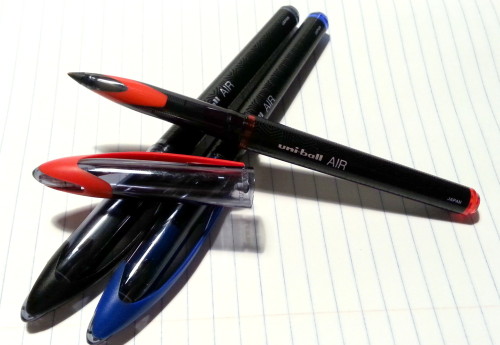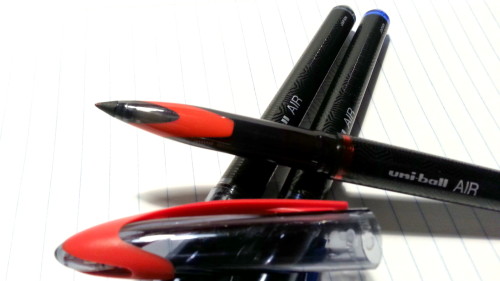 The pen tips glide over every surface I've used them on and I think this is due to the huge ink flow. These pens are gushers. Using them in my comp books meant I had bleed and show through everywhere. This is less of an issue with these books as I don't use the reverse of the page other than writing brief notes about things I need to address later or ideas for edits. But it does show how much the pens saturate the paper as well as how much ink is wasted. The pens were only available at target in the large 0.7 but I'd put them on most paper at a 1mm. The ink really spreads out. This is anything but a fine tip.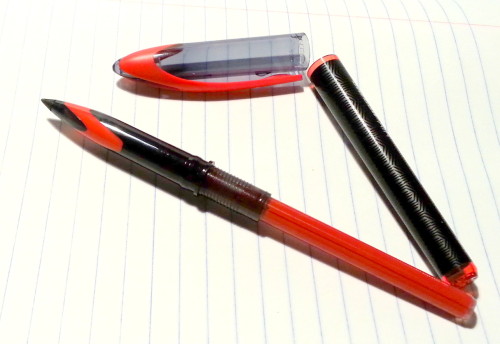 These pens are so smooth that you can almost feel the ink being pushed out of the tip. My wife described these as a combination in feel of a gel ink and a fiber tipped pen, and I think that is an apt description. I did not like these for writing very much because they felt so weird, BUT they were really nice for drawing and the ink is waterproof. The high flow of ink really lent the pens to doodles and sketching. But again, because of the flow, lingering anywhere on a page will cause bleed through. These really flow so wet that writing on regular paper is akin to writing on toilet paper.
I really liked the shade of red and blue that was offered in the 3-pack. The red is a nice bright red, perfect for marking up edits. The blue is a wonderful shade that is both bright and bold. The black is deep and dark.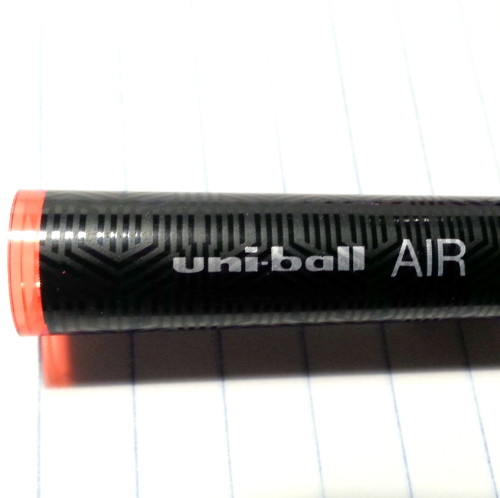 Overall, I don't really them much. I also think they are overpriced. With the ink flow being so high, I've used a quarter of the black already and can see myself blowing through this one if I used it more frequently very quickly. At $7.99 for 3 at Target, or $5 at Staples, and $6.57 at Walmort, or a whopping $12 on amazon, these are just not a value. Especially when you consider how quickly they squirt ink onto the page. Also, they are a little ugly. Actually, a lot ugly. The futuristic design will appeal to high school kids and possibly dudes, maybe dudebros. The slick grip was also uncomfortable even with my cool dry hands. If you must buy these, get them while they are on back-to-school sale for $5 at Staples.
There are much better options at better prices- the Uniball 207/307 or Signo gives you better feel and the same quality ink with a better grip, ink flow, and look.