By now you are all well aware that I enjoy creating portraits. I've worked really hard to have my own style but retain a sense of realism. I'm excited to now be able to work on commissioned portraits. If you are interested in having me create you a portrait please email me.
More information:
I work in a style that is very me, so be sure you have browsed the gallery of my art to be sure you like my style. I work in black ink and create sensitive cross hatching to create areas of shadow. The background of the portrait will be painted in one or two colors, which you may leave up to me or specify. If you have me working on a portrait of your daughter and her favorite color is violet I'll mix a shade of violet and have you okay it.
As the work progresses I'll email you progress shots and include you in the process as much as possible. If I'm able to do so I'll record the process and create a video. When you see the finished piece you won't be surprised but simply overjoyed.
I like to keep my pricing reasonable. The prices are based on size and materials used.
Pen and ink with single color watercolor background on acid free archival paper, single portrait:
Trading Card: $20
3×5: $35
5×7: $55
8×10: $80
All sizes except the trading card size are matted and bagged in a KrystalSeal bag. The trading card size will arrive in a standard trading card sleeve. All pieces will come with a certificate of authenticity.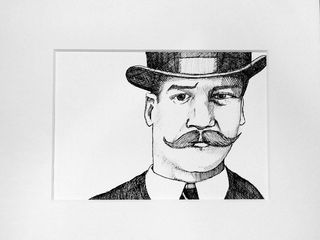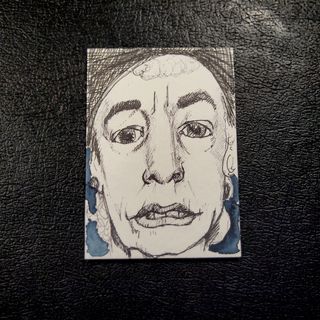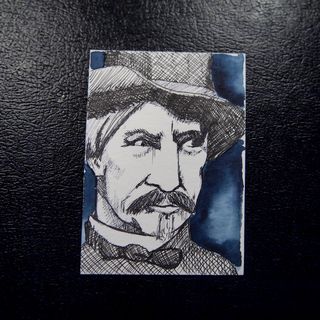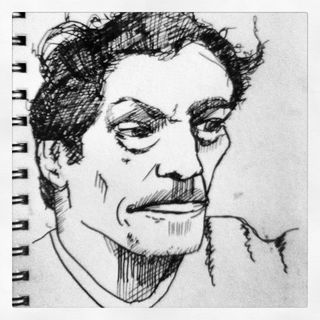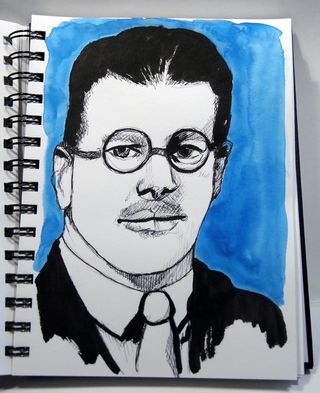 I also create unique one of a kind portraits in mixed media. The background is a combination of collage and acrylic paint with sketching and writing within the layers. In the area I would like to create the face I scrape an ultra thin layer of white paint, on which I draw the portrait. The portrait is drawn in a variety of colors. You can request that I work bright and I'll use a bright color to start the portrait instead of gray. The image is built up of layers of gray, white and black. Around the portrait I'll layer more stencils and more layers of bright acrylic paint. I may add a variety of other media to the portrait if I feel it needs more texture or particular pops of color. These portraits are 11×14 in size, come with a 16×20 mat and ready to be framed in a standard size frame. Each will also arrive with a certificate of authenticity. These portraits are $75+shipping.