I've bought a bunch of different watercolors from Grumbacher Academy to Winsor & Newton. My favorite travel watercolor set is a Cotman 12 pan set. The colors wet easily and lay down nice saturated colors. It was a  great value to get 12 half pans of color for around $20.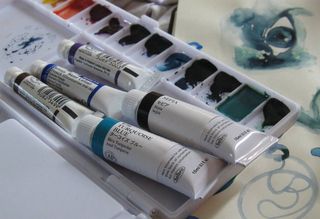 I've since focused on purchasing tubes of color to replenish emptied tubes and adding a few extras. I've tried to buy a few different brands. If you've got an AC Moore or Michael's near you, getting a tube of Winsor & Newton Artist watercolors with a 40% off coupon is a pretty good deal.*
My usual rant with any art material is that you get more out of artist's grade than student. Why? They tend to have more pure pigment and less filler and that means you get more color out of a 5ml artist grade tube versus a 15ml student grade tube.
I've purchased a few tubes of Holbein watercolors at Artist & Craftsman as they've been having a sale. The 15ml tubes are a little pricier than the usual 5ml tubes of Winsor & Newton colors that I buy but it's also 3 times the amount. The colors are intense.
The first time I sprung for a tube of W&N artist grade watercolor I was shocked at how much more intense the color was than Cotman and Academy colors. I was also surprised at how easily my damp brush picked up a lot more color than with Cotman. The "rewetting" ability of W&N over their own Cotman student grade colors was surprising and delightful. Creating an intensely colored wash was much easier than with my cheaper colors.
Now that I've discovered Holbein I'm feeling the same way about them as I did about my W&N artist grade colors. I feel like I'm getting more bang for my buck out of these slightly more expensive tubes of really intense color. So far I've bought a tube of indigo, turquoise blue, and sepia. All 3 colors perform flawlessly and wonderfully on everything I've tried them on so far. The Holbein turquoise blue is a very different shade than the Cotman turquoise. Since I rather like the color of the Cotman turquoise I may end up buying a new tube of it, but I have to say that I've been quite spoiled with the Holbein paints.
That being said I also tried out a tube of Van Gogh watercolor. These are larger sized tubes of color that are considered student grade. The VG colors had something going for them- they rewet on a palette like nobody's business. A swipe across a dried out blob of red oxide brought up a fully loaded brush of intense color. These tubes are moderately priced around $4 a tube and come in sets. I've not tried their pan colors but the tube color is very well behaved and an excellent value.